Fright flick Sinister comes to scare you on DVD and Blu-ray this February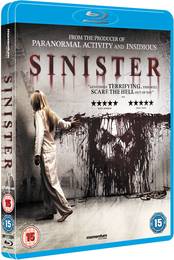 Like a scare? Well producer Jason Blum has got together with writer and director Scott Derrickson to bring us horror movie
Sinister
. Starring Ethan Hawke, Vincent D'Onofrio, James Ransome and Fred Dalton Thompson, this turns up on both DVD and Blu-ray this coming 11th February.
Released by
Momentum Pictures
, extras will include a director's commentary track, additional commentary with writers Scott Derrickson and C. Robert Cargill,
True Crime Authors
featurette,
Living in a House of Death
featurette, a
Fear Experiment
and trailer.
Expect the recommended retail price to be £17.99 for the DVD and £19.99 for the Blu-ray.
Synopsis and trailer follow...
Desperately in need of a best seller to revive his struggling career, true crime writer Ellison moves his family to the scene of his most recent story, the unsolved, gruesome murder of a loving, happy suburban family.
Shunned by the local community and strained by his obligations to his family, the discovery of a batch of home movies in the attic offers Ellison shocking proof to the crime he is investigating.
Ellison notices the same unidentified figure appearing in each of the 8mm films, leaving him convinced that all the incidents are linked by a truly bizarre connection.
As his investigations uncover the terrifying truth he starts to lose his grip on reality and it soon becomes clear that he is placing his own family in harm's way.