British horror flick The Facility comes to DVD in May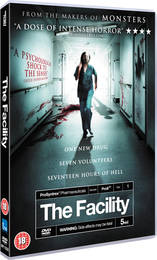 British horror, so hit and miss, and we'll admit we have no idea which side of the coin this recent announcement sits comfortably on. However, being a horror flick, hopefully it doesn't sit comfortably at all.
Momentum Pictures
have announced the release of
The Facility
for 6th May on DVD. Directed by Ian Clark, this stars Alex Reid, Aneurin Barnard, Steve Evets, Oliver Coleman and Skye Lourie.
Alas details on it end there, but expect a recommended retail price of around £12.99.
Synopsis and trailer follow...
Seven volunteers, students Carmen, Arif and Adam, office temp Joni, journalist Katie, estate agent Jerome and unemployed Derek, arrive at the remote Limebrook Medical Clinic to take part in a clinical trial run by ProSyntrex Pharmaceuticals.
In exchange for a fee of £2,000 these human "guinea pigs" have agreed to spend two weeks in isolation testing an experimental new drug known only as Pro9.
After settling into the facility, each participant is given a first injection and, following a group dinner, sent to bed. But shortly after dark, the group is woken by the harrowing screams of one of their number.
Soon, each volunteer begins to succumb to the terrifying and previously unknown effects of Pro9 during a never-ending night fraught with horror, madness, violence and death.