Alien thriller horror Dark Skies creeps to DVD and Blu-ray in August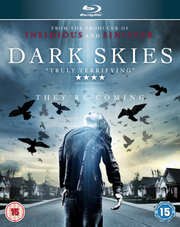 Like horror movies? Enjoy thrillers? How about the combination genre? Yes? Good! Because
Entertainment One
have announced the release of
Dark Skies
for 5th August on DVD, Blu-ray and download.
Written and directed by Scott Stewart, this stars Keri Russell, Josh Hamilton, J. K. Simmons and Dakota Goyo. Extras will include a commentary track with Stewart, joined by producer Jason Blum, executive producer Brian Kavanaugh-Jones and editor Peter Gvozdas. Oh and you also get alternative and deleted scenes.
The recommended retail price will be £17.99 for the DVD version and £19.99 for the Blu-ray. Both carry a 15 certificate, and a runtime of between 93 and 97 minutes, depending on PAL speed-up and all that jazz.
Synopsis and trailer follow...
Lucy and Daniel Barrett are suburban parents trying to get by and provide for their sons. The struggles of normal life become extraordinary as the Barretts start to experience an escalating series of disturbing phenomena occurring around their home.
Soon, the Barretts begin falling victim to alarming physical and mental afflictions, leading them to believe that they are being targeted by an unimaginable deadly force which they must uncover by any means necessary.