No One Lives hit DVD and Blu-ray this week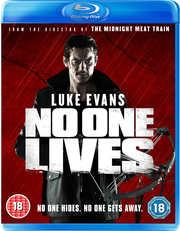 We usually prefer looking forward than looking back, except of course where classic films are concerned, but anyway we take a short break this week from that attitude to bring you news of a release we missed.
Out this Monday from
Anchor Bay Entertainment
came the arrival of horror thriller
No One Lives
, directed by Ryuhei Kitamura. With cinematography from Daniel Pearl, this stars Luke Evans, Adelaide Clemens, Derek Magyar, Brodus Clay, America Olivo, Lee Tergesen, Lindsey Shaw and Laura Ramsey.
Extras on the Blu-ray include
From Script to the Crypt
behind the scenes featurette, whilst the recommended retail price will be around £14.99 for the SD release and £16.99 for the HD version.
Synopsis and trailer follow...
Driving across country while relocating from their previous home, an unnamed man and his girlfriend, Betty, stop for food at a remote roadside bar/diner deep in redneck country. A minor run-in with a member of a ruthless criminal gang based in the area leads to the couple being taken hostage and installed in an abandoned farmhouse.
But all is not as it seems. When Betty is unexpectedly killed and a shocking discovery is made in the trunk of her car, the tables are dramatically turned when the true identity of her boyfriend is revealed. Soon, the gang members find themselves up against a smart and urbane, but equally ruthless and fearless killer, who adheres to a terrifying personal motto.