Garden of Sinners Movie Collection - Collector's Edition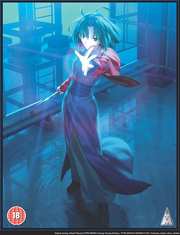 The acclaimed movie series comes to Blu-ray
Certificate: 18
Running Time: 539 mins
Retail Price: £179.99
Release Date: 2019
Content Type: Movie
Synopsis:
After spending two years in a coma due to a traffic accident, Shiki Ryougi awakens with amnesia. In turn, however, she finds that she has also obtained the "Mystic Eyes of Death Perception," with which she can see the invisible lines of mortality that hold every living and non-living thing together. Working for a small independent agency, Shiki attempts to unravel the baffling mystery behind a series of abnormal, horrifying incidents, but do they foreshadow something even more tragic and ominous?

Things are not what they appear to be on the surface, but what dark revelations lie underneath? Shiki must tackle supernatural incidents with her special abilities while searching for a reason to live.

Chapter 1: Thanatos (Overlooking View)
September, 1998
In the city where Shiki lives, something triggers a spate of mysterious schoolgirl suicides. The connection between the girls who've leapt to their deaths is unclear, although all of them have jumped from the Fujou Building, a skyscraper scheduled to be demolished.

Chapter 2: ...And Nothing Heart (Murder Speculation Part A)
1995
Mikiya Kokutou meets a girl who has a mysterious gaze and falls in love with her. That April, he's reunited with her at his high school entrance ceremony. The girl's name is Shiki Ryougi. Meanwhile, the city has been rattled by a series of bizarre murders. There are no known links between victims, and the motive is unclear. An astonishing secret awaits Mikiya, but he doesn't find out until three years later...

Chapter 3: Ever Cry, Never Life (Remaining Sense of Pain)
July 1998
One night, Mikiya helps a girl lying doubled over with stomach pains. Around that time, a number of dismembered bodies are found throughout the city. The murder victims are torn apart so badly that they don't seem like the work of a human.

Chapter 4: Garan no Dou (The Hollow Shrine)
June 1998
After spending two years in a coma caused by a traffic accident, Shiki Ryougi awakens with amnesia. She is visited by Touko Aozaki, a wizard and proprietor of a studio called Garan no Dou. Shiki has lost not only the memory of her accident, but also any real sense that she's even alive. Strange, enigmatic beings begin to attack her...

Chapter 5: Paradox Paradigm
November 1998
Shiki meets a boy named Tomoe Enjou, a runaway who claims to be a murderer. Shiki allows Tomoe to use her apartment as his hideout, but one day, Tomoe sees his mother whom he's sure he's killed.

Chapter 6: Fairy Tale (Oblivion Recording)
January 1999
Apprentice mage Azaka Kokutou, Mikiya's younger sister, has been ordered by her mentor, Touko Aozaki, to investigate a certain incident in which fairies steal the memories of students at Azaka's school, Reien Academy. Azaka launches an investigation with the help of Shiki.

Chapter 7: ...Not Nothing Heart (Murder Speculation Part B)
February 1999
Shiki awakes from her coma and starts to live a new life. Meanwhile, a series of murders are occurring after four years of silence. The incidents remind her of a murderous impulse hidden inside her soul. While Shiki searches for a suspect, Mikiya also starts an investigation of his own.

Chapter 8: The Final Chapter
March, 1999
Mikiya Kokutou meets "Shiki Ryougi" again at the same place where he met her for the first time four years ago...
Special Features:
Contains a 32 page booklet.
Pre-show reminders

Video Tracks:
1.78: 1 widescreen 1080p

Audio Tracks:
PCM 5.1 Surround Japanese
PCM 2.0 Stereo Japanese

Subtitle Tracks:
English

Directed By:
Ei Aoki
Mitsuru Obunai
Shinsuke Takizawa
Takahiro Miura
Takayuki Hirao
Takuya Nonaka
Teiichi Takiguchi

Written By:
Masaki Hiramatsu
Kinoko Nasu

Starring:
Kenichi Suzumura
Maaya Sakamoto
Takako Honda
Ayumi Fujimura
Hiroki Touchi
Jouji Nakata
Mamiko Noto
Rie Tanaka
Souichiro Hoshi
Tetsuya Kakihara

Music From:
Yuki Kajiura

Director of Photography:
Seiji Matsuda
Yuichi Terao

Producer:
Atsuhiro Iwakami
Hikaru Kondo
Masayuki Haryu
Tomotaka Takeuchi

Distributor:
MVM