Fate Zero Part 1 - Collector's Edition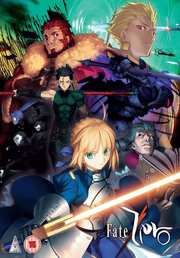 The story starts from zero: the beginning...
Certificate: 15
Running Time: 338 mins
Retail Price: £34.99
Release Date: 2014
Content Type: TV Series
Synopsis:
The Holy Grail War - in this ultimate battle field, in order to obtain the power of the "Holy Grail" that grants any unattainable wish, seven "masters" summon "servants" and fight against each other until the last one survives.

After three inconclusive Holy Grail Wars, the fourth battle has finally started. Hoping to win the battle, each master is heading to the new battlefield, Fuyuki. However, there is a man who is confused and struggling, unable to find meaning in the war. His name is Kirei Kotomine. He wonders why he has been appointed to this task, but without any answers, he encounters his archrival - Kiritsugu Emiya, a master who craves the miracle Holy Grail most of all.

The untold truth of the Fourth Holy Grail War that occurred 10 years before Fate/Stay Night - the truth of the battle fought by Shiro's adopted father, Rin's father, and young Kirei Kotomine - is about to be revealed!
Special Features:
Textless Credits
Collector's Artbox

Video Tracks:
1.78:1 anamorphic widescreen

Audio Tracks:
Dolby Digital 2.0 Stereo English
Dolby Digital 2.0 Stereo Japanese

Subtitle Tracks:
English

Directed By:
Ei Aoki

Written By:
Takumi Miyajima
Kinoko Nasu
Kazuharu Sato
Gen Urobuchi
Akihiro Yoshida

Starring:
Ayako Kawasumi
Rikiya Koyama
Akio Ohtsuka
Akira Ishida
Ayumi Tsunematsu
Daisuke Namikawa
Hikaru Midorikawa
Jouji Nakata
Megumi Toyoguchi
Ryotaro Okiayu
Sachie Abe
Satoshi Tsuruoka
Sayaka Ohara
Sho Hayami
Takumi Yamazaki
Tarusuke Shingaki
Tomokazu Seki
Kari Wahlgren
Matthew Mercer
Bridget Hoffman
Carrie Keranen
Crispin Freeman
Dan Woren
David Earnest
Doug Erholtz
Grant George
Jamieson Price
Johnny Yong Bosch
Karen Strassman
Kyle Hebert
Liam O'Brien
Lucien Dodge
Marc Diraison
Patrick Seitz

Music From:
Yuki Kajiura

Director of Photography:
Yuichi Terao

Producer:
Atsuhiro Iwakami
Hikaru Kondo
Katsushi Oota
Tomotaka Takeuchi
Yoshinao Doi

Distributor:
MVM