Vampire thriller We Are The Night bites DVDs near you in October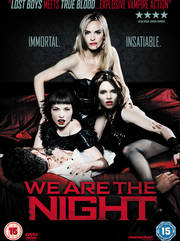 So, you like a bit of vampire thriller type fodder? If so maybe
Momentum Pictures
have something up your street, as they release
We Are The Night
on DVD this 15th October.
Directed by Dennis Gansel, this stars Karoline Herfurth, Nina Hoss, Jennifer Ulrich and Anna Fischer as the toothed ones, alongside Max Riemelt.
Special features will include a making-of featurette, quite a few deleted scenes and no less than two alternate endings. Expect a recommended retail price of £12.99 for this one, with a street price a few pounds less as usual.
Synopsis and trailer follow...
When she unknowingly picks the pocket of a man one night on the streets of Berlin, small-time crook Lena attracts the unwanted attention of Inspector Tom Serner, a young police detective involved in ongoing investigations into Lena's victim, a known Russian mobster.
Although she manages to escape Tom's clutches, Lena's personal situation becomes even more complicated when she later visits an underground nightclub and meets Louise, the club's owner and the leader of a trio of female vampires that also includes "young" party girl and DJ Nora and former 1920s silent film star Charlotte.
Louise immediately falls in love with Lena and decides to transform her, introducing her to a glamorous existence of non-stop partying, fast cars, limitless night-time shopping sprees and eternal life. But it all comes at a price.
As Lena struggles to come to terms with the endless killings and attempts to fend off Louise's Sapphic advances, the bloodthirsty quartet's murderous activities draw Tom and his police colleagues ever closer.