American vampire horror Stake Land comes to DVD and Blu-ray this October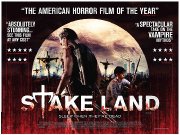 STAKE LAND
DVD & Blu Ray Release date: 10th October 2011
Running Time: 98 Minutes DVD & Blu Ray RRP: £19.99 / £24.99 Cert: 15
"The American Horror Film of the Year"
- TWITCH
"Absolutely stunning…See this film at any cost"
- GOREPRESS
"This one is a game-changer"
- THE SKINNY
Following on from its acclaimed theatrical release,
STAKE LAND
comes to DVD and Blu Ray in September.
Connor Paolo (
Gossip Girl
) plays, Martin, a normal teenager swept across an abandoned, not-so United States of American in the aftermath of a ferocious vampire epidemic.
It's up to Mister (Nick Damici,
Mulberry Street, World Trade Center
), a death dealing vampire hunter, to get Martin to safety. Armed with a trunk full of wooden stakes and a desperate will to stay alive, the pair make their way through locked down towns, recruiting fellow travellers along the way. Among them, a devout nun (Kelly McGillis,
Top Gun
) and a pregnant teen (Danielle Harris,
Halloween
)…
As with his DVD hit, MULBERRY STREET, Director Jim Mickle creates a dark and terrifying world on the brink of collapse, this time bursting with the most vicious vampires in recent film history.
Winner of the 2010 Toronto Film Festival Midnight Madness Audience Award and Audience Award For Best Feature At The Dead By Dawn Festival,
STAKE LAND
is a gritty, post-apocalyptic road movie with teeth!
EXTRA FEATURES
Cast and crew interviews / Behind the scenes featurettes