The Guardian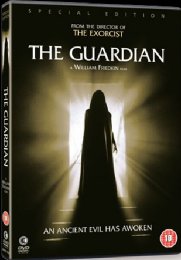 A William Friedkin Film
Certificate: 18
Running Time: 89mins
Retail Price: £15.99
Release Date: 17/10/11
Content Type: Movie
Synopsis:
Following The Exorcist, Oscar-winning director William Friedkin returned with another classic tale of supernatural horror in

The Guardian.

This freaky fantasy horror comes to UK DVD for the first time ever, complete with some excellent bonus features, on 17 October 2011 thanks to Second Sight Films.

Phil and Kate are a young couple living an idyllic life in their LA home. When
Kate falls pregnant with their first child they begin the search for a nanny to care
for their newborn. The lovely young Camilla (Jenny Seagrove - Judge JohnDeed)seems like the perfect candidate for the live-in role. She is a beautiful
woman who devotes herself to looking after the baby, but it soon become
apparent that the nanny is not what she seems…

Complete with man-eating trees and chainsaw carnage, The Guardian is a supernatural freakfest.
Special Features:
Bonus Features:
• 'Return to the Genre' An interview with director William Friedkin
• 'The Nanny' An interview with star Jenny Seagrove
• 'Don't Go In The Woods' An interview with co-writer Stephen Volk

Directed By:
William Friedkin

Written By:
Stephen Volk
Dan Greenburg
William Freidkin

Starring:
Jenny Seagrove
Carey Lowell
Dwier Brown
Brad Hall
Miguel Ferrer

Casting By:
Louis DiGiaimo

Music From:
Jack Hues

Director of Photography:
John A.Alonzo

Editor:
Seth Flaum

Costume Designer:
Denise Cronenberg

Production Designer:
Gregg Fonseca

Producer:
Todd Black
Mickey Borofsky
Joe Wizan
Dan Greenburg

Executive Producer:
David Salven

Distributor:
Second sight