Horror remake sequel I Spit On Your Grave 2 comes to DVD and Blu-ray in October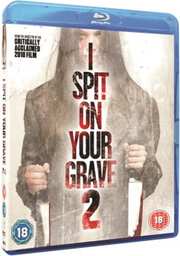 First came the remake, now comes the sequel to the remake, yes horror flick fans,
I Spit On Your Grave 2
is arriving on both DVD and Blu-ray this 7th October courtesy of
Anchor Bay UK
.
Again directed by Steven R. Monroe, this stars Jemma Dallender, Joe Absolom, Yavor Baharov and Aleksandar Aleksiev. Script writer of the remake Neil Elman returns to pen the sequel, joined by
Saw IV
writer Thomas Fenton.
Extras will include deleted scenes and hopefully a trailer. Expect a recommended retail price of around £12.99 for the DVD and £15.99 for the Blu-ray.
Synopsis and trailer follow...
Katie has dreams of becoming a model in New York City. Unfortunately, the photos that worked in her small mid-western town aren't cutting it in the Big Apple. Broke, and in desperate need to update her book, Katie calls a number from a tear-off flyer offering free photos.
But this innocent attempt to update her portfolio quickly turns into an unthinkable kidnapping nightmare where she's ripped away from everyone and everything she knows.
Beaten, battered, bruised, and left for dead, she miraculously survives to unleash a brand of brutal female driven vengeance that has come to define the franchise.