Quarantine 2 infects DVD this August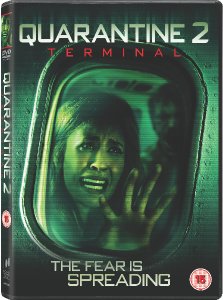 The Most Deadly Mutant Virus Just Went Airborne …
And Escape Is Not An Option
QUARANTINE 2: TERMINAL
The Terrifying Sequel to

Quarantine

Debuts on DVD

on August 15
London, UK. 12/07/11
-
The deadly virus has escaped the infected building and is now on board a late night flight. No one is safe when
Quarantine 2: Terminal
hits DVD on August 15 from Sony Pictures Home Entertainment. The sequel to the film
Quarantine
takes up where the previous installment left off and will be available on DVD for £12.99.
Synopsis:
Earlier tonight, a bizarre disease was unleashed in a run-down Los Angeles tenement ... and no one got out alive. Yet something escaped. Now, aboard Flight 318, the first symptoms begin to show. As the infection begins to take root, innocent passengers suddenly transform into terrifying, bloodthirsty killers. Forced to land at an isolated terminal, and surrounded by armed government agents, the crew and passengers grow increasingly desperate. The only question now is how far they will go to survive.
Screenplay and directed by John G. Pogue,
Quarantine 2: Terminal
was produced by Sergio Aguero, Marc Bienstock, Doug Davison, Roy Lee and Sergio Aguero.
Quarantine 2: Terminal
has a running time of 83 minsand is rated15.
Artwork and digital clips are available for download at www.sphepublicity.comVisit Sony Pictures Home Entertainment on the Web at www.sonypictures.co.uk
About Sony Pictures Home Entertainment
Sony Pictures Home Entertainment is a Sony Pictures Entertainment (SPE) company. SPE is a subsidiary of Sony Corporation of America, a subsidiary of Tokyo-based Sony Corporation. SPE's global operations encompass motion picture production and distribution; television production and distribution; home entertainment acquisition and distribution; a global channel network; digital content creation and distribution; operation of studio facilities; development of new entertainment products, services and technologies; and distribution of entertainment in more than 140 countries. Sony Pictures Entertainment can be found on the World Wide Web at
http://www.sonypictures.com
.
PRODUCT INFORMATION
TITLE
Quarantine 2: Terminal
Release Date
15 August, 2011
Format
Retail DVD
RRP
£12.99
Certificate
15
Genre
Horror / Thriller
Running Time
83 mins