Who Saw Her Die?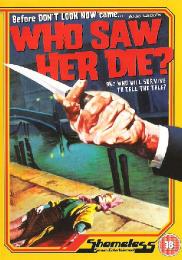 AKA Chi l'ha vista morire?
Certificate: 18
Running Time: 91
Retail Price: £12.99
Release Date: 25/08/2008
Content Type: Movie
Synopsis:
The mists that wreathe the eerie city of Venice become the hunting ground for a faceless child killer that seemingly cannot be stopped in the taut and brilliant thriller, Who Saw Her Die? directed by Aldo Lado (Night Train Murders).

When Franco (in a career-best performance by George Lazenby) loses his daughter to this shadowy elusive murderer he sets off on an unnerving journey of retribution that will bring him to the very edge of his sanity and quite possibly his life too.

Rigid with tense atmospheric style, this film bears an uncanny resemblance in mood to the classic Don't Look Now but was actually made a year before. Boasting starkly evocative cinematography by Franco Di Giacomo (Il Postino) and a score by Ennio Morricone, Who Saw Her Die? haunts the mind long after viewing it.
Special Features:
Theatrical Trailer
Trailer Reel

Video Tracks:
Anamorphic 2.35:1

Audio Tracks:
Dolby Digital 2.0 Mono English

Directed By:
Aldo Lado

Written By:
Francesco Barilli
Massimo D'Avak
Aldo Lado
Ruediger von Spiess

Starring:
George Lazenby
Anita Strindberg
Adolfo Celi
Dominique Boschero
Peter Chatel
Piero Vida
José Quaglio
Alessandro Haber
Nicoletta Elmi
Rosemarie Lindt

Soundtrack By:
Ennio Morricone

Director of Photography:
Franco Di Giacomo

Editor:
Angelo Curi

Production Designer:
Gisella Longo
Alessandro Parenzo

Producer:
Enzo Doria

Distributor:
Shameless Screen Entertainment