Oasis of Fear AKA Dirty Pictures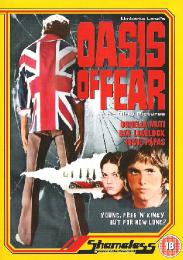 Young, Free 'N' Kinky But For How Long?
Certificate: 18
Running Time: 85
Retail Price: £12.99
Release Date: 24/11/2008
Content Type: Musical Recording
Synopsis:
Also known as 'Dirty Pictures', this fabulously trippy sexploitation thriller from Umberto Lenzi (Paranoia, Cannibal Ferox, Nightmare City) is a lost classic long unavailable to fans of classic kinky flicks.

Two young sexually free hippies, Dick (Ray Lovelock) and Ingrid (Ornella Muti) finance their travels by selling naked snaps of Ingrid until their plan is brought to an abrupt end by the Police. Forced on the run the two seek refuge at a seemingly empty isolated large villa. As it turns out the house is inhabited by the middle-aged Barbara (Irene Papas) who invites them in for some potential three-way hanky-panky that soon locks them into something far more twisted and chilling!

Set to a toe-tapping catchy pop score and filled with deliciously naked female flesh this is also an intriguingly dreamy giallo from the underrated Lenzi that chills into a suspense-ridden climax.
Special Features:
Fact Track
Theatrical Trailer
Trailer Reel

Video Tracks:
Anamorphic 2.35:1

Audio Tracks:
Dolby Digital 2.0 Mono English

Directed By:
Umberto Lenzi

Written By:
Antonio Altoviti
Lucia Drudi Demby
Umberto Lenzi

Starring:
Irene Papas
Ray Lovelock
Ornella Muti
Michel Bardinet
Jacques Stany
Umberto D'Orsi
Calisto Calisti
Ugo Adinolfi
Sal Borgese
Giuseppe Terranova
Carla Mancini
Umberto Raho
Antonio Mellino

Soundtrack By:
Bruno Lauzi

Director of Photography:
Alfio Contini

Editor:
Eugenio Alabiso

Costume Designer:
Giovanni Naitano

Producer:
Carlo Ponti

Distributor:
Shameless Screen Entertainment