Night Train Murders (UK)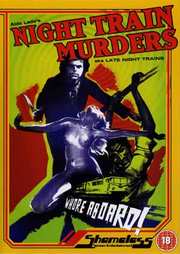 You can tell yourself IT`S ONLY A MOVIE - but it won`t help!
Certificate: 18
Running Time: 90 mins
Retail Price: £12.99
Release Date:
Content Type: Movie
Synopsis:
Please mind the half-dead girls between the platform edge and the train as you board a cinematic ride into terror that was refused a certificate in 1976 and has since never been dared an official release in the UK...

Two street punks, one cold-as-ice sex-crazed vicious bitch and two young virgins converge on a train ride to hell that will see the most unspeakable horrors committed in the name of kinky kicks. Imagine the worst and you`re unlikely to come close to what actually unfolds on screen, but comfort yourself with the thought that once Daddy discovers what`s been done to his daughters revenge will be merciless.

Conceived as a response to The Last House on the Left this chillingly well-made claustrophobic thriller from director Aldo Lado (and scored by Ennio Morricone) sears the brains of those who dare watch it!
Special Features:
Theatrical Trailer
Forthcoming Attractions

Video Tracks:
Widescreen Anamorphic 1.78:1

Audio Tracks:
Dolby Digital Mono English

Directed By:
Aldo Lado

Written By:
Ettore Sanzò
Aldo Lado
Renato Izzo
Roberto Infascelli

Starring:
Laura D`Angelo
Irene Miracle
Franco Fabrizi
Marina Berti
Enrico Maria Salerno
Gianfranco De Grassi
Macha Méril
Flavio Bucci

Soundtrack By:
Ennio Morricone

Director of Photography:
Gábor Pogány

Editor:
Alberto Gallitti

Costume Designer:
Franco Bottari

Production Designer:
Franco Bottari

Distributor:
Shameless