Bubblegum Crisis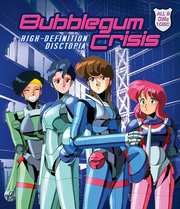 High-definition Disctopia
Certificate:
Running Time: 332 mins
Retail Price: $39.95
Release Date: 2018
Content Type: TV Series
Synopsis:
Bubblegum Crisis contains all 8 OVA's on 1 High Definition Blu-ray disc.

THE ENDURING CLASSIC OF SCI-FI ANIME

It is the year 2032 A.D. Like a Phoenix, the city of MegaTokyo is rising from the ashes of a devastating earthquake. In the twisted canyons of the megalopolis, the Knight Sabers, a small band of high tech mercenaries, fight a lonely battle against the evil GENOM Corporation and its sinister androids, the Boomers. Venture into an all too probable future, where technology has run amuck, and emotion is all that separates Man from Machine.
Special Features:
Music Video Reel animated menu (35 mins)
Color Artwork
Line Artwork

Video Tracks:
1.33:1 pillarboxed 1080p

Audio Tracks:
Dolby Digital Stereo 2.0 Japanese
Dolby Digital Stereo 2.0 English

Subtitle Tracks:
French
English
German
Italian
Finnish
Japanese

Directed By:
Katsuhito Akiyama

Written By:
Katsuhito Akiyama
Shinji Aramaki
Hideki Kakinuma
Kenichi Matsuzaki
Toshimichi Suzuki

Starring:
Yoshiko Sakakibara
Kinuko Omori
Michie Tomizawa
Akiko Hiramatsu
Nozomu Sasaki

Music From:
Koji Makaino