Bubblegum Crisis: Vol. 3 (UK)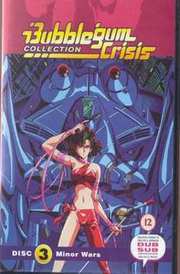 Cyberpunk anime action!
Certificate: PG
Running Time: 100 mins
Retail Price: £19.99
Release Date:
Content Type: TV Series
Synopsis:
MegaTokyo 2033 A.D.:
Like a phoenix, the city of MegaTokyo is rising from the ashes of a devastating earthquake. In the twisted canyons of the Megalopolis, the Knight Sabers, a small band of high-tech mercenaries, fight a lonely battle against the evil GENOM Corporation and its sinister android "Boomers".

Minor Wars (Episodes 7-8):
Vision, a reclusive rock star, is coming out of retirement - to avenge the death of her parents and sisters by killing, amongst other people, Quincy, chairman of GENOM. When the Knight Sabers get hired to protect one of her targets, things get very complicated. Then, a young would-be Vid Reporter decides to expose the Knight Sabers after they smash her favourite camera. Fortunately, for her, she`s the niece of the Chief of Police. Can the Knight Sabers protect their secret and prevent a lunatic from blowing up the AD police building, all at the same time?
Special Features:
DVD ROM Extra features
Cel Art Gallery
`Hurricane Live` Music Videos

Video Tracks:
Standard 1.33:1

Audio Tracks:
Dolby Digital Stereo 2.0 Japanese
Dolby Digital Stereo 2.0 English

Subtitle Tracks:
French
English

Directed By:
Katsuhito Akiyama

Written By:
Katsuhito Akiyama
Shinji Aramaki
Hideki Kakinuma
Kenichi Matsuzaki
Toshimichi Suzuki

Starring:
Yoshiko Sakakibara
Kinuko Ômori
Michie Tomizawa
Akiko Hiramatsu
Nozomu Sasaki

Music From:
Kôji Makaino