Bubblegum Crisis: Vol. 1 (UK)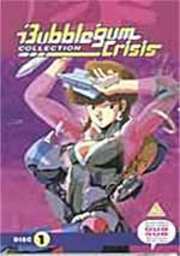 Cyberpunk anime action!
Certificate: PG
Running Time: 101 mins
Retail Price: £19.99
Release Date:
Content Type: TV Series
Synopsis:
MegaTokyo 2032 AD: like the mythical Phoenix, MegaTokyo rises from the ashes of a devastating earthquake. In the twisted canyons of the megalopolis the Knight Sabres, a small band of high-tech mercenaries, fight a lonely battle against the evil GENOM corporation and its sinister android `Boomers`.

Episodes 1-3: `Bubblegum Crisis`, `Born To Kill` and `Blow Up`.
The Knight Sabres are hired by the USSD to recover the `black box`, a device which can remotely control their particle beam satellites. However, Quincy, the chairman of GENOM, and his devious assistant Mason have other ideas. When the Knight Sabres thwart Mason`s plan, he makes it his personal mission to have them eliminated, culminating in an all-out battle atop the GENOM tower...
Special Features:
DVD ROM Extra features

Video Tracks:
Standard 1.33:1

Audio Tracks:
Dolby Digital Stereo 2.0 Japanese
Dolby Digital Stereo 2.0 English

Subtitle Tracks:
French
English

Directed By:
Katsuhito Akiyama

Written By:
Toshimichi Suzuki
Kenichi Matsuzaki
Hideki Kakinuma
Shinji Aramaki
Katsuhito Akiyama

Starring:
Nozomu Sasaki
Akiko Hiramatsu
Michie Tomizawa
Kinuko Ômori
Yoshiko Sakakibara

Music From:
Kôji Makaino