Review for The Sign of Four / The Hound of the Baskervilles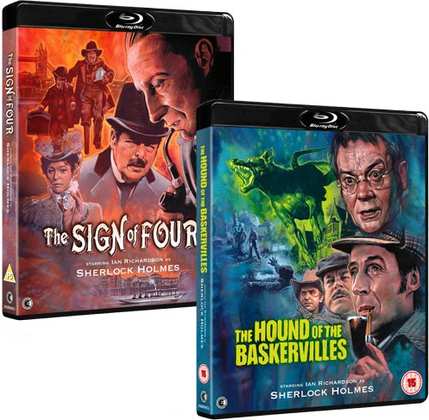 Well, I may as well cut to the chase. Research shows that readers tend to absorb the first few lines of anything online, after which they scan read the rest. So before I go into any detail I'll start by simply saying that these are surprisingly good Holmes adaptations, especially for TV movies, with Ian Richardson impressive in the title role, and a good support cast and plenty of production value elsewhere. I should also point out that they have been somewhat savaged on these supposed 4K transfers by being cropped and 'pushed in' (losing resolution) in the pretence they were originally wide-screen movies. The net result is a creeping, claustrophobic feeling that everything is too closely framed. Because it is. It looks like aspects of the original image have been lost, with tops of heads, sides of faces and other detail. So forget the 're-mastered in 4K' promise and try and find them in their original aspect ratios if you can.
Anyway, that's all the bad news out the way. So what about the good news? If you can get past the disappointment about the cropped image, you'll be doubly disappointed as you realise that these are actually decent adaptations, preceding the excellent Jeremy Brett TV versions by a few years. It's as if Richardson lay the groundwork for Brett, portraying Holmes replete with the idiosyncrasies that typified that adaptation. He's a lighter, less aggressive Holmes, but likable nonetheless.
Both films were made in 1983, shown on ITV in November and December before doing the international rounds elsewhere. They're far more faithful adaptations than the recent slew; the dreadful Robert Downey Junior films or Benedict Cumberbatch's recent representation.
Ian Richardson is actually well-cast as Holmes and he does a splendid job in both films. The equally important Watson, without whom we would never get to know Holmes, is played by two different actors, David Healy and Donald Churchill who both do a workmanlike but highly acceptable job.
Whilst
The Sign of Four
is perhaps the less impressive of the two films from a budget perspective, I enjoyed this most as it is a far less adapted work than 'The Hound of the Baskervilles' which I have seen twice in the last year alone with the Hammer version with Peter Cushing as well as Rathbone's.
It's a story full of 'Boy's Own' intrigue, with murder, buried treasure and the exoticism of distant lands all a part of its Victorian charm. Who is the one-legged man and what devilish creature does he have with him? Why has a young lady been sent the largest diamond in the world from an anonymous source?
There are lots of great studio sequences and even some exteriors around Tower Bridge, where I was working at the time (1983 not Victorian times…) which would have been nice to have seen in the correct aspect ratio.
It rattles along and whilst some of the acting is pure pantomime (with villains out-acting Captain Hook for meanness) it is entertaining and enjoyable enough to warrant a second look if a decent transfer becomes available.
The Hound of the Baskervilles
is certainly nicely shot, offering a perfect excuse to get out of London and on to the foggiest of moors.
There's a curse on the Baskerville family with a succession of members having been murdered by a giant glowing beast across the moors with Charles Baskerville the most recent victim, found with his throat torn apart.
Sir Henry Baskerville (Martin Shaw) comes back from his travels to claim his rightful inheritance. Naturally it isn't long before he becomes the next target for the family curse.
Enter Holmes, disguised as a tinker as he hides out on the moors, whilst Watson stays at Baskerville Hall with Henry.
Needless to say, after much drama the case is resolved in what is a well-executed ending. Despite being a TV movie, the foggy Victorian atmosphere is pervasive and Richardson turns in a great performance as Holmes.
Despite being part funded by HBO (hence Martin Shaw's dubbed US accent perhaps) the films are both very British affairs with a cast full of familiar faces including the irrepressible Brian Blessed, Connie Booth and Denholm Elliott.
The discs come with an audio commentary by Holmes expert David Stuart Davies which are well worth a listen. He's extremely knowledgeable about his subject, albeit slightly academic for some tastes, but for hardened Holmes completists, the inclusion of these may well compensate for the disappointing image crop.