Classic BBC series House of Cards comes to Blu-ray and DVD (again) in April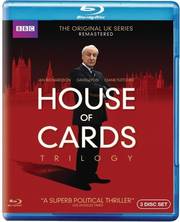 Ah the original
House of Cards: Trilogy
BBC TV series, how fondly we remember you. As probably do some people's trophy cabinets as it won several awards including a BAFTA, an Emmy and Royal Television Society award.
Adapted by Andrew Davies from the best-selling novel by Michael Dobbs, this stars Ian Richardson as Francis Urquhart, Chief Whip turned Prime Minister, who stalks the corridors of power accompanied by Susannah Harker.
Released by
BBC Worldwide
on 8th April, extras will include commentaries with lead Ian Richardson, writer Andrew Davies and producer Ken Riddington. The recommended retail price will be £19.99 for the DVD and £24.99 for the Blu-ray version.
Synopsis and trailer follow...
This tells the story of Machiavellian monster Frances Urquhart as he schemes his way into 10 Downing Street by systematically demolishing all rivals, including the Prime Minster.
Urquhart is innocently aided by eager young journalist Mattie Storin as he uses her to leak damaging stories to undermine anyone who stands in his way to the top. To Mattie, Urquhart is her "Daddy", a lover and a father-figure who is helping her in her career.
With venomous charm, Urquhart invites viewers in on the plot to destroy each of his political rivals with the same deadly ease with which he shoots grouse on his ancestral estate. This tale of back-stabbing, skulduggery and corruption in high places has shades of a Shakespearean tragedy.