Sherlock Holmes and Sherlock Holmes: A Game of Shadows - 2 Film Collection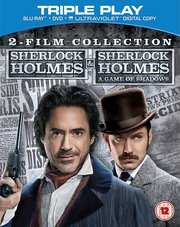 Nothing escapes him...
Certificate: 12
Running Time: 257 mins
Retail Price: £29.99
Release Date: 2012
Content Type: Movie
Synopsis:
Sherlock Holmes

On a quest to solve a string of mysterious and brutal murders, Sherlock Holmes (Robert Downey Jr.) and his trusted ally Watson (Jude Law) plunge into a world of dark arts and startling new technologies, where logic, and a good right hook, are the best crime fighting weapons. Explosive action, baffling mystery and astonishing intrigue follow the two in a race to uncover and foil a terrifying plot that threatens to destroy the country. Director Guy Ritchie helms the all-action adventure reintroducing the great detective to the world. Robert Downey Jr. is the new Sherlock Holmes.

Sherlock Holmes - A Game of Shadows

Robert Downey Jr. reprises his role as the world's most famous detective, Sherlock Holmes, and Jude Law returns as his friend and colleague, Dr. Watson, in Sherlock Holmes: A Game of Shadows.

Sherlock Holmes has always been the smartest man in the room...until now. There is a new criminal mastermind at large--Professor James Moriarty (Jared Harris)--and not only is he Holmes' intellectual equal, but his capacity for evil, coupled with a complete lack of conscience, may give him an advantage over the renowned detective.

Around the globe, headlines break the news: a scandal takes down an Indian cotton tycoon; a Chinese opium trader dies of an apparent overdose; bombings in Strasbourg and Vienna; the death of an American steel magnate... No one sees the connective thread between these seemingly random events-no one, that is, except the great Sherlock Holmes, who has discerned a deliberate web of death and destruction. At its center sits a singularly sinister spider: Moriarty.

Holmes' investigation into Moriarty's plot becomes more dangerous as it leads him and Watson out of London to France, Germany and finally Switzerland. But the cunning Moriarty is always one step ahead, and moving perilously close to completing his ominous plan. If he succeeds, it will not only bring him immense wealth and power but alter the course of history.
Special Features:
Sherlock Holmes
Maximum Movie Mode (MMM) - Director Guy Ritchie Walk On
- PiP - MMM
- Storyboard Comparisons - MMM
- Still Gallery - MMM
- Timeline - MMM
- Drawbridges & Doilies: Designing a Late Victorian London - MMM
- Not a Deerstalker Cap in Sight - MMM
- Ba-ritsu: A Tutorial - MMM
- Elementary English: Perfecting Sherlock's Accent - MMM
- The One That Got Away - MMM
- Powers of Observations & Deduction - MMM
- The Sherlockians - MMM
- Future Past - MMM
- Sherlock Holmes: Reinvented

Sherlock Holmes: A Game of Shadows
- The Original Dynamic Duo - MMM
- Beyond Baker Street - MMM
- The Moriarty Gambit - MMM
- Holmesavision on Steroids - MMM
- A Band of Gypsies - MMM
- Meet Mycroft Holmes - MMM
- King of Shadows - MMM

Video Tracks:
1.85:1 widescreen 1080p
2.40:1 widescreen 1080p

Audio Tracks:
DTS-HD MA 5.1 Surround English
Dolby Digital 5.1 Surround Spanish
Dolby Digital 5.1 Surround French
Dolby Digital 5.1 Surround German
Dolby Digital 5.1 Surround Italian
Dolby Digital 5.1 Surround English Audio Descriptive
Dolby Digital 5.1 Surround Polish
Dolby Digital 5.1 Surround Turkish

Subtitle Tracks:
English
French
Spanish
German
Italian
Danish
Dutch
Finnish
Swedish
Norwegian
Portuguese
Icelandic
Turkish
Polish

Directed By:
Guy Ritchie

Written By:
Anthony Peckham
Arthur Conan Doyle
Lionel Wigram
Michael Robert Johnson
Simon Kinberg
Michele Mulroney
Kieran Mulroney

Starring:
Robert Downey Jr.
Jude Law
Rachel McAdams
Mark Strong
Eddie Marsan
Robert Maillet
Geraldine James
Kelly Reilly
William Houston
Hans Matheson
Noomi Rapace
Jared Harris
Stephen Fry

Casting By:
Reg Poerscout-Edgerton

Soundtrack By:
Hans Zimmer

Director of Photography:
Philippe Rousselot

Editor:
James Herbert

Costume Designer:
Jenny Beavan

Production Designer:
Sarah Greenwood

Visual Effects:
Framestore
Double Negative
Cube Effects
Plowman Craven and Associates

Producer:
Susan Downey
Dan Lin
Joel Silver
Lionel Wigram

Executive Producer:
Bruce Berman
Michael Tadross

Distributor:
Warner Brothers