Brian de Palma's erotic thriller Passion comes to DVD in August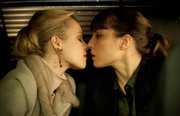 Another day, another title announcement from
Metrodome Distribution
. This time we have Brian de Palma's erotic thriller
Passion
, turning up on DVD this coming 12th August.
This stars Rachel McAdams and Noomi Rapace and apparently explores the destructive power of rivalry between a manipulative boss and her talented protégée, where romantic and professional jealousy escalates from punishing public humiliation to cold blooded murder.
Alas no details on extras, no recommended retail price, or in fact anything at all to bring you about this title, beyond the runtime of 100 minutes.
Synopsis and trailer follow...
A Berlin-based advertising executive Christine engages in a professional struggle with her assistant Isobel, as the former continually stifles Isobel's attempts to further her career.
After Christine takes credit for one of her assistant's ideas, the struggle enters the personal realm and Isobel commences an affair with Christine's husband while also colluding with an equally disgruntled colleague Dani.
Christine then devises a scheme that involves sexual advances to overcome Isobel.