Bare Behind Bars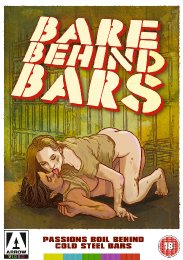 Passions Boil Behind Cold Steel Bars
Certificate: 18
Running Time: 89
Retail Price: £12.99
Release Date: 31/01/2011
Content Type: Movie
Synopsis:
Set in a South American prison, where life is cheap but sex is cheaper, Bare Behind Bars is a chicks-in-chains grindhouse explosion guaranteed to induce cinematic whiplash.

See sex crazed inmates come up against twisted lesbian prison guards in this camp expose of the steamy, seamy life behind the grim walls of an all women penitentiary. Beware the blond bombshell doctor, whose only desire is to sate her mad lust by inflicting her affections on the vulnerable inmates and don't dare cross the insane warden of the institution, who's feathering her bed with the profits of a convict prostitution ring. Any prisoner who dares to cross her must face the worst kinds of sadistic tortures.

How long can the caged women of this hellhole endure such cruel and unusual punishment before they cut loose and stage a daring escape attempt? Find out in Bare Behind Bars, the most nudity- and sex-filled feature-length film you are ever likely to see.
Special Features:
• Theatrical Trailer
• Reversible Sleeve
• Double Sided Foldout Poster
• Booklet with Essay by Ron Bougie

Video Tracks:
Anamorphic Widescreen 1.66:1

Audio Tracks:
Dolby Digital 2.0 Mono English

Directed By:
Oswaldo de Oliveira

Written By:
Oswaldo de Oliveira

Starring:
Maria Stella Splendore
Marta Anderson
Danielle Ferrite
Neide Ribeiro
Sonia Regina
Marliane Gomes
Nadia Destro
Márcia Fraga
Meiry Vieira

Soundtrack By:
Estudios Galante

Director of Photography:
Oswaldo de Oliveira

Editor:
Gilberto Wagner

Costume Designer:
Sylvia de Souza Galante

Producer:
Antonio Polo Galante
Alexandre Adamin

Executive Producer:
Roberto P. Galante
Plínio G. Sanches

Distributor:
Arrow Video