Mike Flanagan's independent horror film Absentia hits DVD this July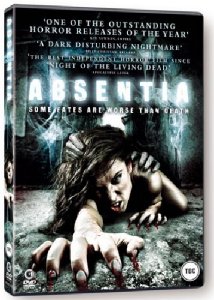 We aren't going to bore you with quotes from sources we've never heard of, partly because they might turn out to be major publications and we'd look stupid, and partly because they might turn out to be some guys blog, quoted to make it look good.
So instead, on to the meat of this new release from
Second Sight
, the dark and terrifying (so says the blurb) horror film
Absentia
. Arriving on DVD this coming 9th July, with a recommended retail price of £15.99, it has won numerous awards including best horror feature at Shriekfest, Freak Show Film Fest and Phoenix Film Festival.
Written and directed by
Mike Flanagan
and starring
Doug Jones
, better known for his appearances in
Pan's Labyrinth
and
Hellboy
, the running time is 87 minutes, and your guess on features is as good as ours.
Here is the synopsis...
It's seven years since Tricia's (Courtney Bell) husband Daniel vanished without a trace and when her troubled younger sister Callie (Katie Parker) comes to live with her she finally finds the strength to make the painful decision to declare him legally dead 'in absentia'.
But as Tricia tries to move on with her life she becomes haunted by terrifying visions, while Callie is strangely drawn to an ominous tunnel near the house, which is linked to other unexplained disappearances. There's something lying in the dark shadows of the tunnel but does it hold the key to Daniel's fate and could it be something far worse than death?