The Delta Force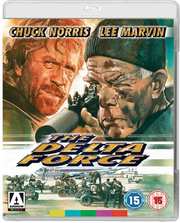 Certificate: 15
Running Time: 129mins
Retail Price: £24.99
Release Date: 05/08/14
Content Type: Movie
Synopsis:
Cannon Films are known for having produced some of the most enjoyable and eccentric action flicks of the '80s – but The Delta Force, which boasts scenes of Chuck Norris flying through the air on a motorbike mounted with missiles, surely stands as one of their most entertaining efforts.

American Travel Ways Flight 282 has been hijacked by a group of terrorists claiming to represent the New World Revolutionary Organisation. The Delta Force, under the leadership of Major Scott McCoy (Chuck Norris), is called in to handle the situation. Still smarting from an ill-fated hostage rescue mission several years prior, this elite squad of special forces is determined to succeed in its mission this time – and assert the might of the American military once and for all.

Drawing on a number of true-life terrorist incidents for inspiration, most notably the 1985 hijacking of TWA Flight 847, The Delta Force is a non-stop thrill ride which culminates in one of the most explosive action flick finales of all time. With Chuck Norris on hand to provide the obligatory muscle and gravelly-voiced Lee Marvin in his last ever screen role, The Delta Force is one mission well worth accepting.
Special Features:
· Genre Hijackers: Mark Hartley on Cannon Films - The filmmaker discusses the explosive legacy of Cannon Films and legendary producers Menahem Golan and Yoram Globus

· Chuck Norris Scribe: An interview with James Bruner, the writer behind numerous Cannon blockbusters including The Delta Force and Invasion U.S.A.

· May The Delta Force Be With You! - An interview with Commandant Christian Prouteau, founder of the French GIGN and instructor of the first Delta Force

· Original Theatrical Trailer

· Reversible sleeve featuring original and newly commissioned artwork by Graham Humphreys

· Collector's booklet featuring new writing on the film by author John Kenneth Muir and a contemporary article on Cannon Films, illustrated with original archive stills and posters

Video Tracks:
1080p, 1.85:1

Audio Tracks:
2.0 PCM Stereo

Subtitle Tracks:
English SDH

Directed By:
Menahem Golan

Written By:
Menahem Golan
James Bruner

Starring:
Chuck Norris
Lee Marvin
Martin Balsam
Joey Bishop
Robert Forster
Lainie Kazan
George Kennedy
Hanna Schygulla
Susan Strasberg
Bo Svenson
Robert Vaughn
Shelley Winters
Steve James

Soundtrack By:
Alan Silvestri

Editor:
Alain Jakubowicz

Costume Designer:
Tami Mor

Producer:
Yoram Globus
Menahem Golan

Distributor:
Arrow Video