Ong-Bak: The Beginning out Now on DVD and Blu-ray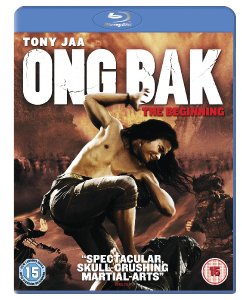 "Spectacular, skull-crushing martial arts" TOTAL FILM
International martial arts superstar Tony Jaa returns in
ONG-BAK: THE BEGINNING
The Eagerly Anticipated Martial Arts DVD and Blu-ray Release of 2010 From Sony Pictures Home Entertainment
Available on DVD and Blu-ray™ on
February 15, 2010
Following the ground breaking
ONG-BAK
, Martial arts superstar Tony Jaa brings his sensational skills to the screen once again in
ONG-BAK: THE BEGINNING,
released on DVD and Blu-ray
™
on the 15th February 2010 courtesy of Sony Pictures Home Entertainment. Jaw dropping martial arts and extreme acrobatics make
ONG-BACK: THE BEGINNING
a spectacular, visual feast and positions Tony Jaa as one of the premier auteurs of the action/martial arts film genre.
 The DVD and Blu-ray release include cast interview, behind the scenes footage and photo gallery.
Ong-Bak: The Beginning
will be available on Blu-ray for £22.99 and on DVD for £15.99.
Synopsis:
Exploding onto the screen in an epic tale of vengeance set against the stunning backdrop of feudal Thailand over 600 years ago, this jaw-dropping new film features some of the most breathtaking fight sequences ever seen. Battling his own demons, Tien (
Tony Jaa
), must fight to avenge the slaughter of his beloved family. Taken in and trained by a vicious group of bandit outlaws, he evolves into one of the most dangerous and feared warriors in the land, his lethal skills perfected to the point where he is able to exact a terrible revenge on the men responsible for the murder of those closest to him.  Following the ground breaking global success of
'Ong Bak'
and
'Warrior King'
, Tony Jaa once again brings his sensational skills to bear in one of the most eagerly anticipated martial arts films of recent years. Knuckle up for a bone-crunching battle between good and evil…
DVD and Blu-ray Bonus Features Include:
Talent Interview
Behind The Scenes Footage
Photo Gallery
Ong-Bak: The Beginning
has a running time of approximately 85 minutes and is rated 15.  Artwork and digital clips are available for download at
www.sphepublicity.com
.  Visit Sony Home Entertainment on the Web at
www.SonyPictures.com
.
PRODUCT INFORMATION
TITLE
Ong Bak: The Beginning
Release Date
15th February 2010
Format
Retail DVD / Retail Blu-ray / Rental DVD/ Rental Blu-ray
RRP
DVD - £15.99
Blu-ray - £22.99
Certificate
15
Genre
Martial Arts / Action
Running Time
85 mins approx