The Assassin's Blade out on DVD this May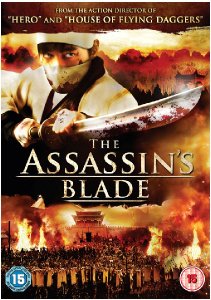 The Assassin's Blade
From the action director of
Hero
and
House of Flying Daggers
DVD Release date: 3rd May 2010
Running time: 98 minutes
DVD RRP: £15.99
Cert:
15
A spectacular tale of betrayal and revenge featuring some of the most stunning martial arts fighting ever seen on film.
Based upon an age-old legend
The Assassin's Blade
tells the story of a girl Yan Gi who, disguised as a boy, enters the country's greatest all-male martial arts academy. Struggling with the physical strength of her male counterparts, Yan Gi finds an ally in the school's top student, Chan Shan, who discovers her secret and tutors her to become one of the most lethal assassins in the academy.
As the pair eventually fall in love, it is revealed that the girl is betrothed to a childhood friend Ma, who embarks on a violent plan of blackmail to ensure that she becomes his wife.
When Ma's treachery is revealed, Chun Shan has no choice but to use all that he's learned from the academy to exact justice…
Please note:
There are no extra features on this disc