Assassin: City Under Siege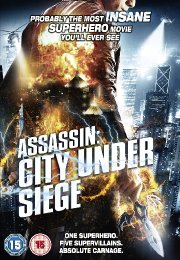 One Superhero. Five Supervillains. Absolute Carnage.
Certificate:
Running Time:
Retail Price:
Release Date:
Content Type: Movie
Synopsis:
You've never seen a superhero movie quite like this before!

Let the fevered imaginations of the director of JACKIE CHAN'S WHO AM I? and the fight choreographer behind THE WARLORDS take you on an adrenaline-pumped, hyperreal, comic book-style action thrill-ride that will leave you screaming for more.

Six circus performers stumble across an abandoned top secret World War II laboratory and become accidentally exposed to an arcane gas, giving them uncanny superpowers.

Using their new skills of flight, invulnerability, super-speed and incredible strength, they choose to become the world's first supervillain team and set off on a deadly wave of crime and destruction. Only the outsider Sunny has the power to stop them, prevent world domination and save the woman he loves.
Special Features:


Video Tracks:
2.35:1 anamorphic widescreen

Audio Tracks:
Dolby Digital 2.0 Stereo Cantonese

Subtitle Tracks:
English

Directed By:
Benny Chan

Written By:
Benny Chan
Chi-man Ling

Starring:
Collin Chou
Chrissie Chow
Aaron Kwok
Qi Shu
Nan Tie
Jacky Wu
Terence Yin
Jingchu Zhang

Music From:
Anthony Chue

Director of Photography:
Anthony Pun

Editor:
Benny Chan
Sing Yan Chan

Production Designer:
William Chang

Producer:
Benny Chan

Executive Producer:
Daniel Lam

Distributor:
Metrodome Distribution