Action thriller Caught in the Crossfire arrives on DVD in September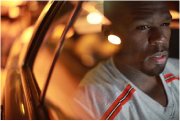 CAUGHT IN THE CROSSFIRE
DVD Release date: 6th September 2010
Running time: 82 minutes
DVD RRP: £15.99
Cert:
15
Starring Curtis '50 Cent' Jackson
There's something dark and seedy lurking in the menacing underbelly of Detroit's decaying suburbs, and police detectives Briggs (CHRIS KLEIN) and Shepherd (ADAM RODRIGUEZ), and their underworld informant (CURTIS '50 CENT' JACKSON), are caught right in the middle of it.
In the city's shadowy backstreets, a routine investigation into a seemingly random gang-related execution unearths a tangled web of deceit and corruption, which leads from the crime-ridden streets right into their very own police department.
Caught in the firing line between dangerous street hoods and dirty cops, Briggs and Shepherd's desperate bid to uncover the truth threatens to erupt in a maelstrom of violence and betrayal.
EXTRAS