Review for Wake in Fright
Wake In Fright

Director: Ted Kotcheff
"What's the matter with him? He'd rather talk to a woman than drink?"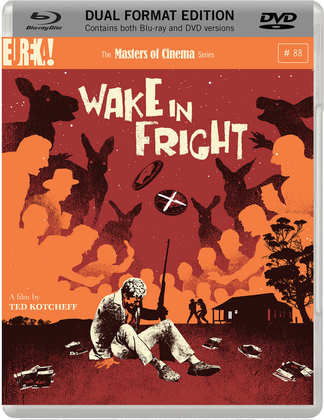 Introduction
Ted Kotcheff will be most familiar to the vast majority of film fanatics, as the helmsman behind the surprisingly seminal, Rambo film, First Blood. The 82 year old Canadian director left his home-country in 1958 already a qualified filmmaker, and was employed by ABC. Kotcheff made his feature film debut with Tiara Tahiti in 1962, and made two more films ,before gaining great notoriety in 1971 with his fourth feature, Wake In Fright.
An incendiary, critically-acclaimed effort, Wake in Fright allowed Kotcheff to make more films in the US, alongside stars such as Gregory Peck, Jacqueline Bisset, Nick Nolte and Peter Fonda. His 1977 collaboration with Jane Fonda, Fun with Dick and Jane, was a hit at the box office, and was remade in 2005 with Jim Carrey. In 1974, he also returned to Canada for The Apprenticeship of Duddy Kravitz, starring Randy Quaid, and a young Richard Dreyfuss on the brink of stardom. For a time, this film was Canada's most successful movie of all time.
Kotcheff's 1982 film however, First Blood, took over $125million at the box office, which made it by far the filmmaker's most successful venture. Although critically derided in some quarters at the time, the respect for the film, like several of Kotcheff's, has only grown over time. Kotcheff also notably helmed Weekend At Bernies, later making a move towards a television career during the Nineties.
English stage performer, Gary Bond is the somewhat unlikely star, alongside cult film stalwart, the incomparable Donald Pleasance. Meanwhile, Chips Rafferty, a much-loved Australian star of both the big and small screens, takes up one of the main supporting roles; sadly his last.
Wake in Fright is an adaption of a 1961 Kenneth Cook novel, and a film that was thought lost for many years, before the 2004 rediscovery of the negatives by the editor. Revered by critics, it has a reputation that has only grown in the ensuing decades, yet remains little seen, and thanks to the inclusion of footage of real animal deaths, will likely stay that way with many audiences. However, first time viewers should be aware that the footage was shot with the participation of real licensed hunters, Animal welfare groups in this country and in Australia approved the material, as it helped underline the sickening brutality that was legally approved at the time, and felt it could be used in a positive manner.
Film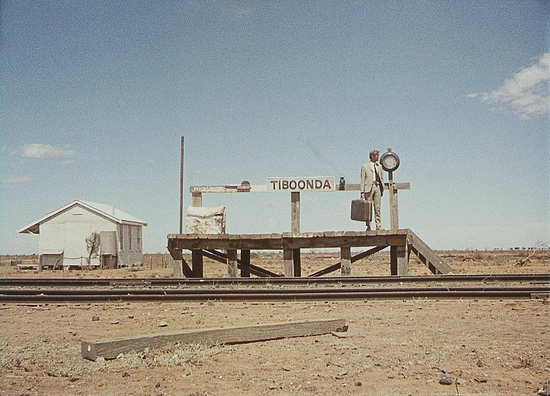 Gary Bond plays teacher John Grant, the clearly middle class fish-out-of-water most will have seen becoming very frazzled and ruffled in the arresting press materials. Somewhat irked by the Australian education system, he's posted to a remote school in a the arid, remote village of Tiboonda in the Outback. Come Christmas, and our slightly cocky lead is looking forward to heading to Sydney, where his girlfriend awaits. As happens with such backwater locations, the journey is anything but straightforward, and he has to stop off at a nearby blue-collar town ahead of his flight, named "The Yabba".
Sociable as he is, Grant heads out for a quiet drink, but swiftly discovers that "quiet" is not a word in the town-folk's dictionary; the Yabba appears to be swarming with rambunctious men drinking themselves silly, and of course, gambling. John is caught up in the antics, and loses his money playing the local specialty "two-up". Missing his flight, John is now caught in a serious predicament, and as he comes to rely on the locals he uneasily befriends, he risks being swept away by a terrifyingly dark side of Outback life.
One of the tag lines used in the current promotional campaign for Wake in Fright is, "It left me speechless," courtesy of Martin Scorcese. It's difficult not to fall back on his assessment. Even today, 43 years later, you aren't going to see anything quite like Kotcheff's film. It's a film absolutely filled with nothingness. The Yabba is a stark, desolate yet bustling hub. Bursting with negative energy, Kotcheff's film zeros in on characters who only add to one another's corrosive loneliness when they come together. The character's are uniformly rotten. Not one-dimensionally bad as such, but riddled with a sickness that owes itself to the sparse, unpleasant terrain. They gamble the nights away, torture kangaroos and live in filth, with little moral sense.
As the film descends into the final act, John Grant's sense of morality too falls apart. With the staggering, infamous kangaroo hunt sequence, the audience is forced to share in his waking nightmare. Make no mistake, the controversy over these scenes is certainly warranted- this is strong, disturbing stuff.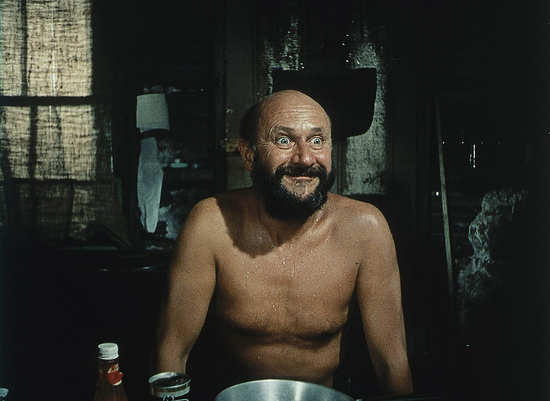 John Scott's menacing score is one of the film's strongest assets. It flutters between jaunty and up-tempo, to off-kilter and unsettling, depending on the images that accompany it. At times, it's almost hummable stuff, before one is rocked back into realizing the nightmare unfolding on screen.
Wake in Fright looks absolutely stunning too. The cinematography by Brian West presents an authentically sweaty, nauseating sense of reality throughout. For a film set in such large, open spaces, it feels intensely claustrophobic, and rather sickening. For this new Blu-Ray release, the restoration looks detailed and clear, consistently through the duration. Given the state it was supposedly in for so long, it's a remarkable achievement.
Performances throughout the film are very good indeed. Bond makes for an unusual lead, but is certainly convincing. At times he comes across as aloof and cocky, but one hardly wonders on other occasions, given the state of some of the locals. Rafferty is particularly effective. He initially comes across as deceptively warm, but oozes a disconcerting threat upon every instance where Grant's outsider status breaks the surface. As you would expect from Pleasance, he's something of a scene-stealer, essaying a sort of intellectually superior vagabond who is both hypocritical and the fore-runner to Grant's collapse. In all, they're a marvelous collective of performances.
Extras

Masters of Cinema have conspired here to produce a hefty melee of features, mixing both old and new. The commentary track was on previous BD versions in other regions, as were the 7.30 report, an Obituary on Chips Rafferty and Who needs art? The interview with Kotcheff meanwhile is culled from a version released by Madman Video.
-Commentary by the Director, and Editor, Anthony Buckley, is a little dry at times, but certainly informative. Kotcheff highlights lots of little character details that are really intriguing, and may well have been missed upon a first viewing. There are also plenty of interesting tidbits to be had concerning the editing, such as an innocuous error concerning Donald Pleasance drinking a lager with interchangeable hands!
-Interview with Director. This chat with Kotcheff runs an impressive 23 minutes, and is pretty fascinating. Kotcheff's memory and anecdotes make him a very worthwhile speaker, and he makes some really compelling points of conversation along the way.
-Who Needs Art is an older video piece looking at the film, and is certainly worth a look.
-7.30 Report is 6 minute piece from ABC discussing the restoration of the film, following its lengthy absence from the public consciousness. This is a pretty good intro into the background behind such an obscure classic. It also enormously helps with appreciating just how much effort has went into recent attempts to bring Wake in Fright back up to scratch.
-Chips Rafferty Obituary
-A TV spot for the film as titled "Outback", is a little sensational and exploitative, but including it is certainly interesting.
-Trailer, which is absolutely terrifyingly, offering little of the comfort afforded by the beautiful, arid landscapes within the film, instead providing a string of deeply unsettling images. Definitely the sort of trailer that just doesn't get put together for new films, and immensely helps sell the piece
-48 Page Booklet. This is the big new addition for enthusiasts of the film. Masters of Cinema have produced a beautiful collection of essays and archive imagery. One of the best extra features seen thus far this year.
Overall
While yes, there are flaws, and at times it is a little too on-the-nose in terms of the steady breakdown in Grant's circumstances, Ted Kotcheff's film is a devastating piece of work.
Wake in Fright remains an enormously uncomfortable, unforgettable experience.
The Seventies managed to spawn a slew of timeless, envelope-pushing cinematic nightmares, but few sear into the consciousness and remain as strongly as Wake in Fright. It offers the harsh, unforgiving landscape of Walkabout, the otherworldly, almost uncivilised local characters of Deliverance, and the explosions of destruction evident in A Clockwork Orange. Visually stunning, this is confrontational cinema at its most challenging and effective.