Survival horror S.N.U.B! hits DVD in May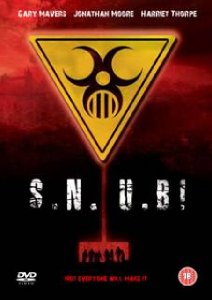 S.N.U.B!
Available on DVD 24th May 2010
From ISIS Ltd
S.N.U.B! Is A Survival Horror Feature Film
Following a nuclear attack by terrorists on London a mixed bag of survivors are trapped in a Government bunker cut off from the outside world.
As they come to terms with their predicament they find that their security and safety are not as assured as they originally hoped…
With some devastating twists and turns S.N.U.B! is based on the horrifyingly real possibility of a dirty bomb destroying London and this concept is taken beyond realism into the world of the action adventure movies of the 1950's.
Filmed almost entirely on location at the Kelvedon Hatch Secret Nuclear Bunker, a decommissioned military bunker in Essex S.N.U.B! is the first European feature film shot entirely on Sony's brand new PMW-EX1 solid state tapeless camera system.
Directed by independent writer and filmmaker Jonathan Glendening (Summer Rain, About Before) and written by father and son team Peter and John Adams this horror feature film has an a renowned British cast including Gary Mavers (Peak Practice, Casualty, Body & Soul), Jonathan Moore (Perfect, Midsomer Murders, The Bill, Foyle's War), Harriet Thorpe (Calendar Girls, The Brittas Empire, Absolutely Fabulous, French and Saunders) and Claire Spence (Primeval, Doctors).
Synopsis
A junior minister of the British Government discovers a terrorist plot to detonate a nuclear device in London. Putting self-preservation first he flees with a young American political advisor to a re-commissioned Secret Nuclear Underground Bunker - S.N.U.B. They find themselves entombed in the bunker with a disperate group of individuals caught in the wrong place at the wrong time.
The terrorist bomb is found but attempts by bomb disposal experts fail to prevent it exploding destroying central London and the fallout contaminating the surrounding countryside.
As a result of the blast a group of dangerous convicts breakout from a local high security prison, but are contaminated with radiation and start to mutate. The mutants infiltrate the bunker and one by one the occupants endure a horrible, grisly death. Eventually one of the survivors escapes from the bunker to make contact with the outside world and a rescue helicopter is organised. But inside the S.N.U.B. the mutants are closing in. Not everyone will make it…
DVD PRODUCT DETAILS:
Title: S.N.U.B!
Credit: Angry Badgers Pictures
Release Date: 24th May 2010
Distributor: ISIS Ltd
DVD Price (RRP): £12.99
Certificate: 18
Feature Running Time: 74 minutes
DVD Catalogue No.: ISIS1002


DVD Special Features
Behind the Blast Door (23'03")
Kelvedon Hatch Secret Nuclear Bunker Tour (9'56")
Audio Commentary with Jonathan Glendening & John Adams
Words Got Out' Music Video (3'29")
Trailer (1'39")
Sony PMW-EX1 Camera Web Promo (5'53")
Website: www.snubfilm.com