My Entire High School Sinking Into The Sea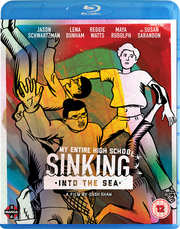 You don't graduate high school, you survive it...
Certificate: 12
Running Time: 76 mins
Retail Price: £24.99
Release Date: 2018
Content Type: Movie
Synopsis:
From acclaimed graphic novelist Dash Shaw (New School) comes an audacious debut that is equal parts disaster cinema, high school comedy and blockbuster satire, told through a dream-like mixed media animation style that incorporates drawings, paintings and collage.

Dash (Jason Schwartzman) and his best friend Assaf (Reggie Watts) are preparing for another year at Tides High School muckraking on behalf of their widely-distributed but little-read school newspaper, edited by their friend Verti (Maya Rudolph).

But just when a blossoming relationship between Assaf and Verti threatens to destroy the boys' friendship, Dash learns of the administration's cover-up that puts all the students in danger. As disaster erupts and the friends race to escape through the roof of the school, they are joined by a popular know-it-all (Lena Dunham) and a lunch lady (Susan Sarandon) who is much more than meets the eye.
Special Features:
The Art of My Entire High School Sinking Into The Sea
The Making of My Entire High School Sinking Into The Sea
Theatrical Trailer
Dash Shaw Shorts

Video Tracks:
2.35:1 widescreen 1080p

Audio Tracks:
DTS-HD MA 5.1 Surround English
PCM 2.0 Stereo English

Subtitle Tracks:
English

Directed By:
Dash Shaw

Written By:
Dash Shaw

Starring:
Jason Schwartzman
Lena Dunham
Reggie Watts
Maya Rudolph
Susan Sarandon
Thomas Jay Ryan
Alex Karpovsky
Louisa Krause
John Cameron Mitchell

Music From:
Rani Sharone

Editor:
Alex Abrahams
Lance Edmands

Producer:
Kyle Martin
Craig Zobel

Executive Producer:
Joshua Blum
Tyler Davidson
Kevin Flanigan
Matthew Johnson

Distributor:
Manga Entertainment