Monstro!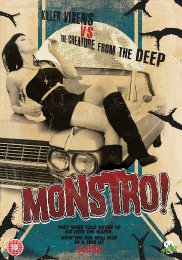 They were told to never go into the water. Now the sea will rise in a tide of blood.
Certificate: 18
Running Time: 73 mins
Retail Price: £12.99
Release Date: 2012
Content Type: Movie
Synopsis:
Killer vixens vs The Creature from the Deep in this retro-style creature feature gore-fest.

Three gorgeously deranged killers, Beretta, Blondie and Snowball, hole up in a small beachside community after their murderous actions attract the wrong kind of attention. But not all is as it seems in this small town. A few of the locals try desperately to warn them of the dangers of going into the water but these crazy vixens listen to no one and they brazenly take to the sea. Unbeknownst to them however, their seaside frolic has awakened a horrifying beast from the depths of the ocean. It isn't long before these sexy sirens are hip-deep in trouble as the sea itself rises in a tidalwave of blood and they face the fight of their lives against the terrifying kraken.

Monstro! follows in the tradition of innovative and exciting independent cinema of the 60s and 70s golden era of exploitation and horror. Shot with practical effects and good old blood, sweat and tears, director Stuart Simpson has created an aesthetically polished and highly entertaining film to please all fans of cult cinema. 
Special Features:
2 Feature Length Audio Commentaries
Cast Interviews
Deleted Scenes
Behind the Scenes
Trailer
Short Film Acid Spiders
Short Film Sickie

Related Websites:
http://www.monstromovie.com/

Video Tracks:
1.78:1 anamorphic widescreen

Audio Tracks:
Dolby Digital 2.0 Stereo English

Directed By:
Stuart Simpson

Written By:
Stuart Simpson

Starring:
Norman Yemm
Nelli Scarlet
Kyrie Capri
Karli Madden
Kate Watts
Scott Brennan
Steven Stagg
David Gannon
Russell Benson

Music From:
Fabian Pisani
Heath Brown

Director of Photography:
Stuart Simpson

Editor:
Stuart Simpson

Costume Designer:
Claire Mueller

Producer:
Fabian Pisani

Executive Producer:
Stuart Simpson
John Adams
Rebekah Smith

Distributor:
Monster Pictures UK