Review for The Long Goodbye
The Long Goodbye
Director: Robert Altman
"Case closed, all zippered up like a big bag of s*** ..."
Introduction
Phillip Marlowe will need little introduction to many readers. The hard-boiled creation of American writer, Raymond Chandler, Marlowe was the focal point of numerous novels, beginning with 1939's
The Big Sleep
. He became a much loved icon of the noir crime fiction genre, first played on the big screen (officially at least), by Humphrey Bogart. The latter's performance in
The Big Sleep
(1946) is often considered a crowning achievement in his glittering career, although later efforts by Robert Mitchum are also held in high regard. In this instance, Elliot Gould takes the lead. At this stage in his career, Gould was on a high that he would ride for the majority of the decade, and although divisive, this depiction of Marlowe clearly remains a key moment for him.
Chandler has been adapted to the screen many times however, and became a screenwriter himself. Among his most acclaimed works for the screen are 1944's
Double Indemnity
(co.written with Billy Wilder), and the gripping 
Strangers on a Train
(1951).
Robert Altman meanwhile, is the director behind this 1973 adaption of
The Long Goodbye
, updating Raymond Chandler's 1953 noir tale into Seventies Hollywood.
The five-time Oscar nominated filmmaker is known for his early, subversive, non-conformist works, often involving massive casts and a keen eye for scenary. The first of these to make a splash was
MASH
in 1970, which brought him together with Elliot Gould. Altman would continue to earn superb notices for
McCabe & Mrs Miller
in 1971,
Nashville
(1975), and later hits such as 1992's Robert Redford starrer,
The Player
, and the excellent, sprawling epic,
Short Cuts
, a year later. In-between these periods were often lean times critically for Altman, who suffered through notable flops such as the disastrous Popeye. The general feeling seems to be however, that his work is best appreciated over the course of time and often with multiple viewings. Perhaps then, it's only appropriate that such an individual director be responsible for the long under-appreciated,
The Long Goodbye.
Film
Elliot Gould stars as Private Investigator, Phillip Marlowe. Residing in sunny Los Angeles in a complex inhabited by dope-smoking hippy chicks, Marlowe first appears when woken by his hungry cat. Subsequently forced to head towards the supermarket, Marlowe is frustrated by the lack of his pet's favourite brand. Upon his return, he is visited by old buddy Terry Lennox (Jim Bouton) who asks for a lift to Tijuana.
The next day, Marlowe is pinched by two detectives, who take him into custody. He's interrogated about Lennox, who has apparently murdered his own wife, and the cops suspect collusion with Marlowe, who has inadvertently aided his escape. Three days later, the cops learn that Lennox has killed himself while in Mexico.
Upon his release, Marlowe decides he cannot let the case lie, suspecting that something else has occurred. Meanwhile, he's hired by Eileen Wade (Nina Van Pallandt), who is searching for her missing husband (Sterling Hayden). During this investigation, he begins to build a connection between the death of the Lennoxes and the Wades, while he also attempts to make a repayment to a vicious local mobster.
The Long Goodbye
is not a film for everyone by any means. It's a loose adaption, at times bordering on breezy, that lingers for a long while on the wisecracks, and briefly on any real suspense. In fact, the majority of the running time is spent on Gould cracking jokes and making darkly humorous one-liners while completely puffing his brains out on cigarettes. He wanders from scene to scene, person to person, accompanied by the light, exotic twinkle of piano tunes, under beautifully clear skies with the urgency of a snail.
Gould himself is crucial. He's wonderful deadpan, yet charming and sharp as Marlowe. Likewise, his supporting gast aid him very well indeed. Sterling Hayden is especially commanding in his performance while the likes of Pallandt offer extremely credible and sympathetic female characters.
There's a strongly laconic vibe running throughout, which some will find bereft of excitement and suspense, but the tone perfectly suits the gum-shoe scruff of Gould. When it occasionally explodes into violence, it does so with horrific, impactful consequences.
Altman treads the line magnificently, upon finding out about the murder of Lennox's wife, Gould's face drops; a sudden moment of seriousness creeping into a film until this point laced with humour. As a mistress later has her face bloodied in a furious explosion of violence, the reality of the situation strikes Gould and the audience like a wayward brick to the face. It's strong stuff when it needs to be.
On the other hand, there's an abundance of humour here. A security guard serves up impressive impersonations of Cary Grant and Jimmy Stewart that should delight audiences in the same way they force a smile on Marlowe. The opening sequence featuring Marlowe shopping for Cat-food, as we're introduced to his buddy, is brilliantly filmed stuff, that gently absorbs us into Marlowe's weirdly artificial, sub-living lifestyle. It's a trippy, thoroughly modern,anti-establishment film the utterly subverts expectations.
Those who can appreciate the moody visuals, shuffling performances and lounge music, will get much more out of this unique entry into the Neo noir genre.
Extras
Arrow Video's new Blu-ray contains a hugely impressive selection of bonus features that really help cap off what has been a fantastic year for the label.
-RIP Van Marlow; a previously released 25 minute documentary with Altman and Gould. This is fascinating stuff, that could have went for twice as long. Altman goes into the various struggles he had making the piece, including the ending which you just knew would trouble the penny pinchers and suits at the Studio.
-Giggle and Give in, is a nearly hour-long 1996 documentary on the career of Altman, which is well worth watching though it's obviously dated a little now. It would have been fantastic if we could have had this complimented by piece exploring hs work since. But as it stands it's a great feature.
-Interviews; These include a belting Q&A with Gould that goes for nearly an hour. He's on fine form here, and this is probably up there as one of the best features. Also included, are interviews with Altman expert, David Thompson, Raymond Chandler biographer, Tom Williams, and Maxim Jakubowski, a crime writer. Vimos Zsigmond speaks for 15 minutes or so about his cinematography, and he's always a compelling source of information, though Thompson's effort perhaps trumps him as the "best of the rest".
-Also included are Radio Spots, the Original Theatrical Trailer, and an Isolated Music and Effects track. I can think of few films that deserve such a feature as the latter, than this one. Superb stuff!
*(Not included for Review). The commercial release also includes a neat booklet on the film, including among other material, a new essay by Brad Stevens.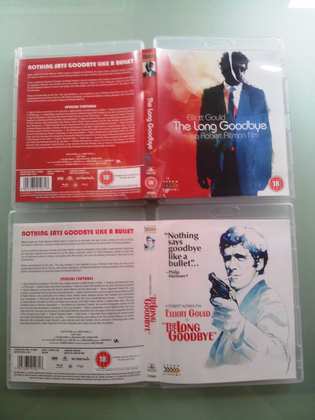 Audio/Visual
In terms of visuals, this Blu-Ray release is far from exceptional looking if one is seeking reference material to show off their system. The bright West Coast landscape is filmed in a naturalistic fashion, with a free-roaming camera that rarely stays still. Apparently this sort of styling was entirely intentional by Altman, and in truth, absolutely suits the film, even if it does not lend itself entirely to holding up during certain situations. The occasional night scene looks a little below par, while the odd zoom or turn of the camera renders a character or detail a little more out of focus than one intends. Poor Arnold Schwarzenegger is one such victim in his cameo.
However, the film is shot beautifully, and this not being akin to a modern piece like
Avatar
, does not necessarily mean it's not worthy of a superior Blu-ray transfer. This restored version looks as good as the movie ever will. For example, a scene filmed at a Malibu beach house looks absolutely stunning, while the colours look fantastic throughout. A night scene on the beach is also staggering; aided by the addition of the "floodlights" used by investigating police officers, the area is lit with a clarity that provides astonishing contrast and deep colour tones.
The film sounds splendid, an offers a good balance that is much needed, given Gould's muttering and understated speech patterns.
Overall
Arrow have outdone themselves with this release. It's a superb package for a much-misunderstood endeavor. Fan or cynic, it's difficult to argue that they have gone to extra lengths to ensure this film receives the treatment it deserves.
Personally, for reference, I'd compare Altman's film to John Cassavetes'' masterpiece,
The Killing of a Chinese Bookie
, in terms of the somewhat downbeat tone, and the uneasy manner in which familiar themes are made to fit within a somewhat unfamiliar landscape. However, Altman's approach is much less dark, and more humorous. His reverence for the material was not such that he allowed himself to restricted or bound by expectations, thus creating something that stands today ans innovative, and still exciting and relevant.
The Long Goodbye
is one of the more overlooked, brilliantly realised gems to emerge from the Seventies "New Hollywood" era of American cinema.