The Vengeance Trilogy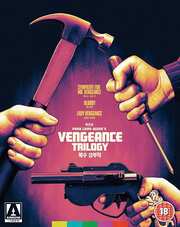 Sympathy For Mr Vengeance, Oldboy and Lady Vengeance
Certificate: 18
Running Time: 356 mins
Retail Price: £34.99
Release Date: 2019
Content Type: Movie
Synopsis:
This collection presents Sympathy for Mr. Vengeance, Oldboy and Lady Vengeance, the lauded trilogy of revenge films directed by internationally acclaimed Korean director Park Chan-wook (The Handmaiden).

Sympathy for Mr Vengeance tells the harrowing tale of a young deaf-mute man, Ryu, who kidnaps a wealthy businessman's daughter in an attempt to extort money to pay for his sister's kidney transplant. A terrible accident sets the child's father on a fateful path of revenge.

Oldboy tells the grisly story of Oh Dae-su, a normal man inexplicably imprisoned in a grim hotel room-like cell for 15 years, without knowing his captor or the reason for his incarceration. Eventually released, he searches for answers and retribution.

Lady Vengeance tells of Lee Geum-ja, a model prisoner serving a sentence for a murder she did not commit, who plots a dastardly revenge against the real murderer when she gets out.

Park Chan-wook's visually stunning masterworks of revenge are presented in this new collection with a massive array of extras, including the feature-length Oldboy making-of documentary Old Days.
Special Features:
SPECIAL EDITION CONTENTS

• Four-disc set featuring Sympathy for Mr. Vengeance, Oldboy, Lady Vengeance and the feature-length documentary Old Days

• Special edition packaging featuring newly commissioned artwork by Justin Erickson

DISC ONE - SYMPATHY FOR MR. VENGEANCE

• Audio commentary by director Park Chan-wook and filmmaker Ryoo Seung-wan

• Screaming for Vengeance, Kim Newman on the Vengeance Trilogy and the tradition of revenge films

• Extensive archival making-of featurettes, behind the scenes featurettes and cast and crew interviews

• Trailers

• Image gallery

DISC TWO - OLDBOY

• Music and effects track

• Audio commentary with director Park Chan-wook

• Audio commentary with Park Chan-wook and cinematographer Jung Jung-hoon

• Audio commentary with Park Chan-wook, Choi Min-sik, Yoo Ji-tae and Kang Hye-jung

• Audio commentary with critic Jasper Sharp and writer Simon Ward

• Out of the Past, video appreciation by Asian film expert Tony Rayns

• Deleted scenes with optional director commentary

• Behind the scenes featurettes

• Extensive cast and crew interviews

• Trailers and teasers

• Image gallery

DISC THREE - OLD DAYS

• Old Days: An Oldboy Story, acclaimed feature-length 2016 documentary about Park Chan-wook's masterpiece

• Autobiography of Oldboy, a three and-a-half-hour video diary of the making of Oldboy

DISC FOUR - LADY VENGEANCE

• High Definition Blu-ray™ (1080p) presentation of two versions of the film, the original theatrical version and the fade to black and white version

• Audio commentary by director Park Chan-wook, director of photography Jung Jung-hoon and art director Jo Hwa-seong

• Audio commentary by director Park Chan-wook and actress Lee Yeong-ae

• Audio commentary by academic Richard Peña

• Extensive archival making-of featurettes, behind the scenes featurettes, cast and crew interviews and alternate scenes

• Trailers

• Image gallery

Video Tracks:
2.35:1 widescreen 1080p

Audio Tracks:
DTS-HD MA 5.1 Surround Korean
DTS-HD MA 2.0 Stereo Korean
DTS 5.1 Surround English

Subtitle Tracks:
English

Directed By:
Chan-wook Park

Written By:
Chan-wook Park
Seo-Gyeong Jeong
Yong-jong Lee
Mu-yeong Lee
Jae-sun Lee

Starring:
Su-hee Go
Anne Cordiner
Tony Barry
Yeong-ae Lee
Dae-han Ji
Hye-jeong Kang
Ji-tae Yu
Min-sik Choi
Ji-Eun Lim
Du-na Bae
Ha-kyun Shin
Kang-ho Song

Casting By:
Ju-yeol Lee

Director of Photography:
Jeong-hun Jeong
Byeong-il Kim

Editor:
Jae-beom Kim
Sang-Beom Kim

Distributor:
Arrow Video