Joint Security Area (UK)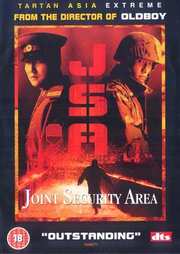 Winner of 4 awards at the 21st Chongryong Film Festival
Certificate: 18
Running Time: 106 mins
Retail Price: £19.99
Release Date:
Content Type: Movie
Synopsis:
A firefight occurs at the `Bridge Of No Return` in the Korean DMZ (De-Militarized Zone) where two North Korean soldiers are killed. The North claims that the incident was a flagrant attack by the South Koreans, while the South claims that one of their soldiers was kidnapped.

The only events that both sides confirm are that after a shoot-out and a wounded soldier stumbled out of a guard post in the pouring rain, three North Korean soldiers have been struck down; two are dead, the other wounded. All point the finger at South Korean Sergeant Lee (Lee Byung-heon). In order to solve the dispute, the NNSC (Neutral Nations Supervisory Commission) dispatches half-Korean half-Swiss Army Intelligence Bureau officer, Major Sophie E. Jean (Lee Young-ae).

With no cooperation from either side, the case appears to be unsolvable. However, Major Jean discovers that the number of bullets fired from the pistols and the number found at the scene differ, and she begins to dig deeper into the backgrounds of the soldiers involved. Subsequently she finds out about a previous encounter involving the same two North Korean soldiers (Song Kang-ho, Shin Ha-kyun) and their South Korean opponent Lee. With secrets from Major Jean`s own past coming to the fore, the story begins to unravel...

Winner of 4 awards at the 21st Chongryong Film Festival including Best Film, Best Photography Award, Best Director (Park Chan-wook) and Best Supporting Actor (Shin Ha-kyun).
Special Features:
Deleted scenes
`Making Of` featurette
Interviews with members of the cast and crew
Film notes from Erica Franklin
Original theatrical trailers

Video Tracks:
Widescreen Anamorphic 2.35:1

Audio Tracks:
DTS 5.1 Korean
Dolby Digital 5.1 Korean

Subtitle Tracks:
English

Directed By:
Chan-wook Park

Written By:
Sang-yeon Park
Chan-wook Park
Mu-yeong Lee
Hyeon-seok Kim
Seong-san Jeong

Starring:
Ha-kyun Shin
Tae-woo Kim
Kang-ho Song
Byung-hun Lee
Yeong-ae Lee