Vengeance Trilogy Box Set, The (UK)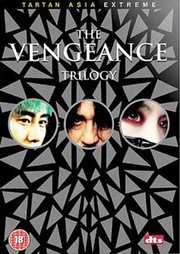 Sympathy For Mr Vengeance, Oldboy and Lady Vengeance
Certificate: 18
Running Time: 340 mins
Retail Price: £49.99
Release Date:
Content Type: Movie
Synopsis:
Sympathy For Mr Vengeance (2002): A deaf mute worker saves all his money for his sister who requires a kidney transplant. He has the wrong blood type to be able to donate one of his kidneys, so he arranges a trade with a group of organ dealers: one of his kidneys, and 10 million won, in return for their finding a kidney for his sister. They renege, but a legitimate kidney becomes available for transplant. Unfortunately, he no longer has the 10 million won required for the hospital to perform the operation. He and his girlfriend, a terrorist seeking to change how the poor are treated in Korea, kidnap his former boss`s daughter. But events spiral quickly out of control...

Oldboy (2003): Taken without reason. Imprisoned for 15 years. Released without reason. 5 days to seek the truth...

One day in 1988, ordinary white collar worker Oh Dae-soo (Choi Min-sik) is kidnapped and incarcerated in a private makeshift prison cell, dressed up like a cheap hotel room. With only a TV for company, Dae-soo makes numerous attempts to escape and to commit suicide but they all end up in failure. All the while Dae-soo asks himself what made a man hate him so much enough to imprison him in solitary confinement with no explanation. While suffering from his near-madness, Dae-soo becomes shocked when he watches the news and hears that his beloved wife was brutally murdered. At this very moment, Dae-soo swears to take revenge on the man who destroyed his happy life.

15 years on and without a word of warning Dae-soo is released. Given a new set of clothes, a mobile phone and the attentions of curious sushi waitress Mido, Dae-soo begins to track down his enemy, only to find he may be the pawn in a much bigger game which is only just beginning. Taunting Dae-soo, the culprit gives him just 5 days to catch and kill his captor or Mido will die...

Based on Japanese manga of the same name by Minegishi Nobuaki and Tsuchiya Garon, winner of the Jury Grand Prize at the 2004 Cannes Film Festival and winner of 5 Grand Bell awards in Korea (including Best Film for Park Chan-wook and Best Actor for Choi Min-sik), Old Boy is a masterfully inventive revenge thriller complete with blackly comedic moments.


Lady Vengeance (2005): The cinematic flair and narrative surprises that marked Park Chan-Wook`s Sympathy for Mr. Vengeance and Oldboy continue in this third and concluding part of the director`s thematically-linked trilogy of revenge. Intense and inventive, the film follows the progress of beautiful, impassive Lee Geum-ja (Lee Young-Ae) after she`s released from prison having served 13 years for the kidnap and murder of a young boy.

Once on the outside, she hooks up with some former cellmates, a preacher who thinks she`s an angel, the detective who originally arrested her and the daughter she gave up for adoption, gathering around her all the people needed to carry out an elaborate plan of revenge. Her target is kindergarten teacher Mr. Baek (Oldboy star Choi Min-Sik), while her weapon(s)-of-choice are unexpected and highly personal. This is striking and ghoulishly entertaining stuff, a highwire act poised between horror, tragedy, comedy and exploitation. With the aid of Oldboy Director of Photography Jeong Joeng-Hun, who employs some neat tricks and brings a vibrant beauty to the dark proceedings, Park ensures there`s never a dull moment.
Special Features:
Sympathy For Mr Vengeance (remastered HD feature)

Jonathan Ross on Park Chan-Wook
Director and Actor Commentary
Interview with Park Chan-Wook
Production Featurettes
Cast and Crew Interviews
Trailers

Oldboy (remastered HD feature)

Director`s Commentary
Director and Cast Commentary
Director and Cinematographer Commentary
The Autobiography Of Oldboy

Lady Vengeance: Fade to White Version (remastered HD feature)

Director and Actress Commentary
Director, DoP and Art Director Commentary
Critic Richard Pena Commentary
The Making Of Lady Vengeance
Deleted Scenes
Character Interviews
Lady Vengeance In Venice
Trailers

Video Tracks:
Widescreen Anamorphic 2.35:1

Audio Tracks:
Dolby Digital 5.1 English
Dolby Digital Stereo 2.0 English
DTS 5.1 Korean
Dolby Digital 5.1 Korean
Dolby Digital Stereo 2.0 Korean
Dolby Digital EX 5.1 Korean
DTS ES 6.1 Korean

Subtitle Tracks:
English

Directed By:
Chan-wook Park

Written By:
Chan-wook Park
Seo-Gyeong Jeong
Yong-jong Lee
Mu-yeong Lee
Jae-sun Lee

Starring:
Su-hee Go
Anne Cordiner
Tony Barry
Yeong-ae Lee
Dae-han Ji
Hye-jeong Kang
Ji-tae Yu
Min-sik Choi
Ji-Eun Lim
Du-na Bae
Ha-kyun Shin
Kang-ho Song

Casting By:
Ju-yeol Lee

Director of Photography:
Jeong-hun Jeong
Byeong-il Kim

Editor:
Jae-beom Kim
Sang-Beom Kim

Distributor:
Tartan Video