Anime Review Roundup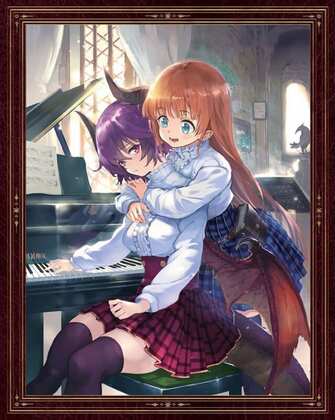 You have to really respect the creators' commitment when it comes to
Mysteria Friends
. You have a fantasy story universe which is rich, vibrant and epic in scope as evinced by the Rage of Bahamut stories, you have production values that are off the scale, more befitting a theatrical presentation, and you use it all to tell a slice of life story, an unconventional romance which is as non-committal as most such romances are in anime. Set in a magic academy, a human princess develops a friendship with a half-dragon girl, and it slowly deepens over the course of ten short-length episodes. The price may make you blink, but Mysteria Friends does what it sets out to.
This Week I Have Been Mostly Rewatching...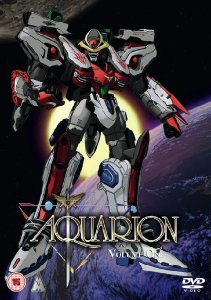 Aquarion. Today, you'll probably hear me whinge about the glut of 'isekai' lost-in-a-fantasy-world shows. 20-odd years ago it would have Evangelion clones that would have me sighing in tedium. Aquarion is at the perky and fun end of the scale when it comes to giant robots and mythology. 12,000 years previously, there was a war between the Fallen Angels and humanity, and it came to an end when one of the angels fell in love with a human woman and betrayed his own kind. Now, the angels are back, and they're harvesting humans for fuel. The post apocalyptic Earth is defended however by a robot in three parts. Aquarion is formed when three futuristic fighter planes piloted by plucky teenagers combine to orgasmic effect, and their mission is to stop the harvesting.
Aquarion is a daft show, with variable animation from studio Satelight. Each episode invariably has some daft lesson imparted by their inscrutable leader, but which will definitely tie into the episode climactic battle. It would be utterly disposable, were it not for the music soundtrack which comes from Yoko Kanno, and as so often happens with her music, it manages to elevate even a mediocre show into something memorable. Aquarion is so popular that it's spun off two sequel series, Aquarion Evol and Aquarion Logos. MVM released the first series originally in four volumes.
Here's my review of Part 1
. Subsequently there was a complete collection release. It's all deleted now, so second hand is your best bet, although if you can spin region 1, the US Funimation release is still available.
MVM released Mysteria Friends on Collector's Edition Blu-ray last Monday, August 17th.