Anime Review Roundup
Gundam Free For All
The big Gundam event has begun in preparation for the simultaneous worldwide release of Gundam Unicorn on Blu-ray. From now until the end of April, several classic Gundam series will be available for streaming from various sites in both dub and sub flavour. It's your big chance for UK viewers to see what all this giant robot stuff is about, and the first two series to be streamed have been launched. Go to the Anime News Network right now, and you'll be able to see Zeta Gundam, while Crunchyroll have started streaming the original Mobile Suit Gundam. Now these are big series, and with shows like Gundam SEED, Gundam SEED Destiny, Gundam Wing and more to be added to the mix, only the seriously unemployed and unoccupied will have the time to catch them all. But Bandai haven't been remiss in providing information. If you visit this
website
, then you'll find information about all of the shows, and a handy schedule to find out where and when they will be streamed.
Haruhi Suzumiya Season 2 Comes To US DVD
Probably the least unexpected news of the week, but Bandai, in their usual roundabout way, pretty much confirmed what every already knew, that the second season of The Melancholy of Haruhi Suzumiya will be dubbed and released in the US in due course. Given that the first series saw a UK release last year, it may be taken as read that Beez will also eventually release the second. Now the big question is just how Season 2 will be released, especially given the Endless Eight episodes in the middle of the run. For those who were under a rock somewhere, for eight episodes, Haruhi Suzumiya went all Groundhog Day. If we get single volume releases as in the first series, we may end up with two discs with just variations on a single episode. Haruhi is Bandai's flagship title, and they will probably want to wring as much from it as possible, but I really do hope that they go straight to boxset with this one. News from
Anime News Network
.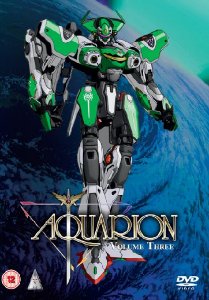 The first review of the week was
Aquarion: Volume 3
. I'm still nonplussed by this show, which has somehow got me appreciating giant animated robots, a genre that up till now I have taken pains to avoid. But Aquarion has been a whole lot of fun, a quality that makes up for a plethora of failings, and you can't whine about giant robots and tired old clichés when you have a whopping great grin on your face. I had a whopping great grin on my face when I watched this disc. See how broad it was by clicking on my review.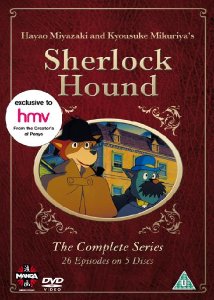 It was time to go retro next, as Hayao Miyazaki season gets into full swing. Ocean Waves is the latest release from Ghibli in the UK, and it will soon be followed up with Hayao Miyazaki's latest, Ponyo. There's no better time to cash in, which is why we now get
Sherlock Hound: The Complete Series
. Sherlock Hound is the last television series that Miyazaki worked on, back in the mid eighties. It definitely appeals to the retro crowd who grew up on Dogtanian, Willy Fog, and Mysterious Cities of Gold. In this adaptation, the world of Sherlock Holmes gets a distinctly canine makeover, and there are some delightful Miyazaki touches to appreciate.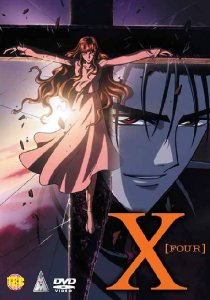 I rounded off the week with the next instalment of CLAMP's opus,
X: The Series - Volume 4
. This is shaping up to be quite the gripping confrontation between good and evil, with the Dragons of Earth challenging the Dragons of Heaven for the fate of the world. It's full of fate, destiny and portentous moments, the sort of epic that you think should be directed by Peter Jackson, but this goes one better, and is directed by Yoshiaki Kawajiri of Ninja Scroll fame. The first 3 volumes were about putting the various pieces on the board, volume 4 sees an early attempt at checkmate. I promise not to use a lame chess metaphor in my review…
Manga Entertainment release Sherlock Hound: The Complete Series as an HMV exclusive. MVM release both Aquarion: Volume 3, and X: The Series - Volume 4. And all three titles come out today.