Michael Haneke's drama Amour comes to DVD and Blu-ray in March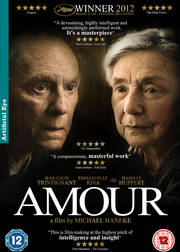 Artifical Eye
have announced the release of director Michael Haneke's drama
Amour
, on both DVD and Blu-ray. Arriving on 18th March, this stars Jean-Louis Trintignant, Emmanuelle Riva and Isabelle Huppert.
No details on extras at the moment, the only information we can bring you is the running time of 127 minutes, the fact it has a 12 certificate, and that the recommended retail price will be £15.99 for the standard definition version and £19.99 for the HD release.
Marketing blurb and trailer follow...
A raw, unflinching and emotionally devastating examination of human relationships at their most intimate and profound, focusing on the lives of an elderly couple and the strain their relationship undergoes after one of them suffers from a stroke.
Hailed as Michael Haneke's finest film to date and positioning him firmly as the world's leading contemporary auteur, Amour is one of the most powerfully moving pieces of cinema ever made, pitched at the highest level of intelligence and insight possible.