Iron Sky set to invade Blu-ray and DVD this May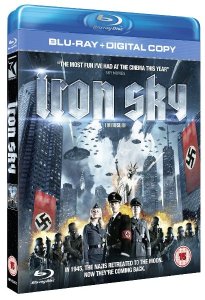 Fans of Nazis on the moon will be thrilled to hear that internet born tongue in cheek sci-fi flick
Iron Sky
is coming to Blu-ray and DVD on 28th May, and also getting the odd showing in big screens such as the
Prince Charles Cinema
. More details on that via the official
Facebook page
that you thankfully don't have to "like" to view.
Revolver Entertainment
are responsible for bringing it to the UK, and it stars Udo Kier, whom you may know as the bad guy from
Blade
, and Gotz Otto from more higher brow works as
Schindler's List
and memed-to-death
Downfall
.
Alas, information on extras is sketchy at best, I guess people don't care about those anymore.
Synopsis and trailer follow...
In the last moments of World War II, a secret Nazi space programme evaded destruction by the Allies and made a daring escape to the Moon. In the intervening 70 years they have re-colonised, re-armed with devastating new weapons and silently plotted their revenge.
When an American astronaut stumbles upon their secret Moon lair, the Führer (Udo Kier, Blade) decides to unleash their alien armada upon the unprepared Earth, to be led by ruthless army leader Klaus Alder (Gotz Otto). Now every man, woman and child must unite to repel the UFO Nazi invasion and save humanity!