Konstantin Bojanov's debut film Avé comes to DVD this May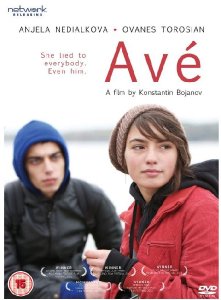 Network Releasing
have announced Konstantin Bojanov's debut film
Avé
, for release on DVD this 28th May. Described as a road trip with a twist, this Bulgarian feature stars Angela Nedialkova, Ovanes Torosian and Martin Brambach.
The recommended retail price will be £15.99, and if you like a bit of the old catalogue number for your trainspotting notebook, then 7953726 is the one to write down. Alas no extras of note.
Synopsis follows...
When hitchhiking from Sofia to Ruse, Kamen, an art student, meets Ave, a 17-year old runaway girl. With each ride they hitch, Ave invents new identities for them, and her compulsive lies get Kamen deeper and deeper into trouble. As the couple sinks further into a confusion of adventures and incidents and ultimately, they are forced to confront both death and love in a cathartic and life-changing experience.
Inspired by haunting real-life events and encounter, Konstantin Bojanov's debut feature is as spontaneous and freewheeling as the characters' adventures. With great levity and humour, this remarkable, triple-award winning film explores exceptional moments when time stops and one's responsibility starts and ends only with one's own heart.