Women discover the antidote for a boring summers day in the office
There seems to be a conspiracy against businesses to keep staff away from work. First, there was all the bank holidays in April and May followed by another holiday for the Royal Wedding. Now there even seems to be a new move to stop people working even once they've returned back to work.
It appears that women especially have discovered a new way of passing the time in the office, whilst still appearing to be working hard - and it seems that it is fooling their male bosses.
When iPads and tablet PCs first came out they had gadget or "big boys toys" status, and were full of business related applications. So if you were to walk in to any meeting with everyone there using their device, you could be forgiven into thinking that they were all working. But you might be wrong.
Whilst men have increasingly used their devices for non work functions like games and movies, women have realised that they are a perfect way to enjoy a hot summer read when things are quiet. Of course, if the boss walks by, you can instantly swop applications go back to a business report without being noticed.
New research from Simba Information, suggests that women are buying far more books to read on screen than men, and the suspicion is that they are using them in the office when they are supposed to be working.
To capitalise on this new trend, some fiction authors are now pre-launching their books on Kindle, iPad and other devices in advance of their paperback launch to catch this fast growing market. Amazon recently reported that ebook sales in some markets have overtaken conventional paperbacks.
One such author who is at the forefront of this trend is Victoria Shelley, whose raunchy new novel "It's A Girl's Game", based in the world of WAGs and footballers, is set to be the hottest read on Kindle this summer.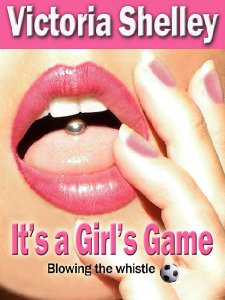 As one who personally knows most of the footballers who have taken out super injunctions to protect their privacy, Victoria Shelley knows the world of WAGs better than most. From her days as a football pin-up and the darling of the Chelsea fan club, to her career as a glamour model, she has been a part of the whirlwind of publicity surrounding the world of footballers and their antics on and off the pitch. Her raunchy new book, "It's a Girl's Game" was inspired by her unique experiences behind the closed doors of the sport.
It is being pre-released on Kindle and other eBook formats on Tuesday May 3rd in advance of the main book launch in early August. Victoria says, "The book is a magical mixture of memories and deep dark secrets mixed up with a handful of spice and schoolgirl dreams in a fantasy world that is not a million miles from reality."
It's a Girl's Game is a sexy, funny, fictional story about how three twenty-something-girls-next-door become swept up in the emotional rollercoaster world of dating footballers. The story intertwines three unique relationship tales that are each filled with humour and a generous handful of spice. The reader will be sure to laugh with and empathise with our three "Wannabe WAGS", Leila a witty football supporter, lovable airhead Sammi, and curvy, feisty Gemma.
It's a Girl's Game is a great read for anyone who loves the world of glamour, gossip, naughtiness and scandal when mixed with the beer, singing and drunken larks surrounding the beautiful game of football.
Victoria Shelley is an international model with a face that is instantly recognisable from the pages of the world's top magazines. She has a background in the City in corporate finance and is a now a professional writer. It's a Girl's Game is her first novel, which was inspired by her love of football and the time she spent following the game.
In her early twenties she was often told she was photogenic, so Victoria tried her hand at photographic modelling. Being a naturally versatile model she became experienced in this area, working over the years on a wide variety of assignments from commercial to glamour.
Victoria has had a creative flair for writing since her teens. Having a diverse range of interests and a number of writing styles, she has been published in various capacities from business magazines, to football websites and beauty websites.
As a result of living life to the full in her twenties and building valuable life experiences, in 2010 Victoria completed her first sexy humour fiction book, It's A Girl's Game.
"It's a Girl's Game" by Victoria Shelley is published by Filament Publishing Ltd on Amazon Kindle and all other eBook formats on May 3rd 2011 at £7.18 ISBN 978-1-905493-74-6
The paperback version will be published at the beginning of August 2011