Don't be scared of cobras any more!
Ultra fast dual-connector USB 3.0 and lightning, up to 64GB storage capacity, movies or music direct streaming. The benefits are numerous to define new iCobra's characteristics. The EMTEC's novelty is not venomous at all, it only spreads its hood to better protect your precious personal data!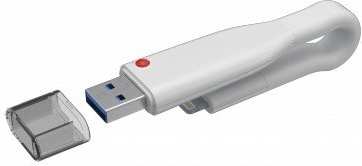 Features
Ultra fast dual-connector USB 3.0 and lightning
Simple and intuitive app interface
Easy file management
Available in 32GB or 64GB
Easily transfer between your iPhone, iPad & Mac or PC
Directly stream your movies or music
Easily share your files by email, MMS or your favorite social networks
Capture photos and save straight on to iCOBRA
Instantly backup your files to the cloud (Dropbox, Google Drive, etc.)
Compatible with all protective cases
Intuitive User Interface
Emtec is an IT consumer brand, and our duty is to do the most intuitive User interface. No need of user guide to play with Emtec Connect App. You should intuitively do everything : play, copy, rename, delete, transfer, save, share, run apps very easily.
Immediately free up space on your iPhone or iPad
No worries to transfer files from your iPhone/iPad on to iCOBRA, the 32GB and 64GB are sufficient to free up space, so you will never be short of memory
Directly stream movies or music from iCOBRA to your iPhone or iPad
Feel like watching a movie or listening to music that are not on your iPhone ? Just get them on iCOBRA, and plug it on iPhone's Lightning connector . Run your favorite multimedia files via Emtec Connect App. It's that simple !
Easily share your files with your friends
Thanks to Emtec Connect, all your files stored in iCOBRA can also be shared via MMS, email or on social networks (i.e. Facebook)
Back up your files in a click on iCOBRA or on cloud
Never lose your photos, videos or contacts with the one-click button that will back-up your precious data.
Easily transfer all your files between your iPhone / iPad and your Mac / PC
Thanks to Emtec Connect iCOBRA's app, you can transfer whatever compatible files from PC/Mac towards iPhone/iPad
Ultra fast dual-connector USB 3.0 and lightning
Files are getting bigger across the time (see movie file), today it is necessary to have a big memory capacity but also a ultra fast connector for the transfer, which is fully possible with iCOBRA and their USB 3.0 and Lightning connectors
Smart design compatible with all protective cases
At Emtec, we think that design must be attractive but not be an obstacle for a daily usage. The iCOBRA have 2 thin connectors compatible with any slot, and also a flexible cable for not hampering its usage
Capture photos, videos and store them directly on iCOBRA
Can't capture any more photos with your iPhone because its memory is full? Just connect iCOBRA and keep on shooting!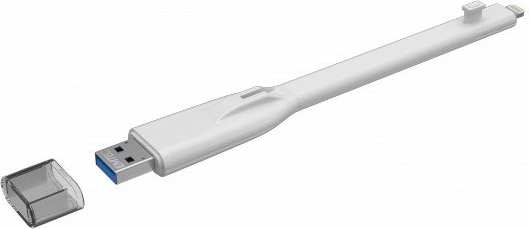 Technical specifications
Windows 10, 8, 7, Vista, XP, Me, 2000 / Mac OS X / Linux 2.6x
Storage capacity 32Gb or  64Gb
Weight and dimensions 78 x 70 x 23mm, 148 grams
Transfer speed
(Read) Up to 100 MB/s for USB 3.0
20 MB/s for Lightning
(Write)Up to 20 MB/s for USB 3.0
10 MB/s for Lightning
USB 3.0 compatibility USB 3.0 backwards compatible with USB 2.0
Lightning compatibility
iPhone 5/5s/5c, 6 /6 Plus, 6S, iPad 4, iPad Air/Air 2, iPad mini/mini 2/mini 3