Rude Gameware Announces the Amazing New Fierce Laser Gaming Mouse V2
Interactive Ideas, in partnership with Rude Gameware, have announced the Fierce 5000 DPI Laser Gaming Mouse V2 (PC)
Rude Gameware have taken everything that made the original Fierce Laser Gaming Mouse great and made it even greater! They have ramped up the DPI to a whopping 5000, quickened the response time to just 1 m/s, added even more customizable buttons and given it an even sleeker, sturdier form factor for an incredible look and feel.
Features
• 5000 DPI Laser Engine
• 1000 Hz polling with 1 ms response time
• Onboard memory to save your modifications
• 7 independently programmable buttons and macro support
• Adjustable Weights
• Zero-Acoustic Ultra-smooth Teflon feet
• Always-On mode
• On-the-Fly Sensitivity DPI adjustment (no driver needed)
• LED DPI Indicator
• Gold plated USB connector for maximum conductivity
• 7 foot, lightweight, non-tangle cord
• Included customization software
Price & Availability
The Fierce 5000 DPI Laser Gaming Mouse V2 (PC) is available immediately from Amazon at £39.98. The product will be available from further retailers shortly.
About Rude Gameware
Rude Gameware is a morally ambiguous gaming peripheral manufacturer. Rude Gameware focuses on unique features and functions that are strictly for gamers combined with distinctive style that represents the gaming culture that we've been a part of for over 10 years. For more information on the complete line of Rude products and a list of local retailers, please visit us at: www.rudegameware.com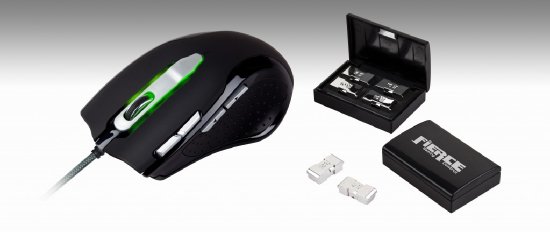 About Interactive Ideas
Interactive Ideas is a leading value-added distributor of Software and Technology products, establishing themselves in the competitive IT industry by providing excellent customer service, proactively working with their partners and being able to identify emerging technologies.