Laplink releases PC to Mac transfer and synchronisation tool -Switch & Sync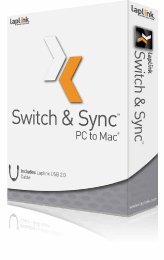 Laplink Software, Inc.
 today announced the release of Switch & Sync, the easiest way to move from a PC to a Mac.
Switch & Sync
makes moving to a Mac or synchronising folders between a PC and a Mac simple. It quickly and easily copies all selected files and folders from a PC to a Mac, even automatically converting e-mail, contacts and calendars from their PC format for use on a Mac with programs such as Apple Mail and Entourage.
The Outlook conversion feature (compatible with Outlook 2000 or later, Windows Mail and Outlook Express 6 or later) is unique to Switch & Sync, saving users a significant amount of time and hassle.
"Customers have been asking us for a
PCmover
-type solution for Macs," said Laplink Software CEO Thomas Koll. "Laplink made PC to PC migration fast and easy and now we've done the same thing for PC to Mac migration."
PCmover
is the #1 best-selling migration solution in the world and is the only software that moves programs, files and settings from an old PC to a new one. Laplink has also been recognised for many years as an expert in file transfer and synchronisation technology.
Switch & Sync
builds on this reputation by automatically copying all of the files and folders the user selects - including documents, music and pictures - from a PC to a Mac. It can then be used to keep all of the files and folders up-to-date between the PC and Mac with automated synchronisation and Laplink's patented SpeedSync® technology. This allows users to enjoy the benefits of each machine and use them in tandem, while SpeedSync helps them work quickly without missing a beat.
SpeedSync® is patented Laplink technology that dramatically reduces the transfer times of modified data. It accomplishes this by only syncing the portions of files that have been changed. This allows for the fastest possible synchronisations, which keeps users from having to wait long periods of time for files to transfer between two computers. Switch & Sync also uses SmartXChange®, which is designed to recognize when files have been deleted, renamed or replaced; streamlining the entire process.
"Moving from a PC to a Mac has not been a simple process - until now," continued Koll. "Laplink Switch & Sync offers the fastest file transfer and synchronization possible, which is why it is the ideal solution for both switching from a PC to a Mac as well as keeping PCs and Macs in sync ."
Other
Switch & Sync
features include:
A user-friendly interface for copying and moving data quickly and easily.
Automated file synchronization allowing users to automatically sync files and folders daily, weekly or monthly between PCs and Macs.
Laplink's classic dual-pane window, which allows users to drag and drop files between the two computers.
Price & Availability:
Laplink Switch & Sync™ is available now at SRP £29.99 inc from
amazon.co.uk