Bundy: A Legacy of Evil out in September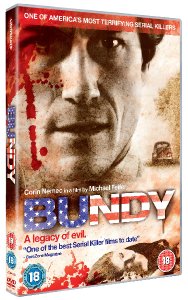 The true story of one of the world's most notorious serial killers.
BUNDY: A Legacy of Evil
is available to own from 
14th September 2009
Bundy: A Legacy of Evil
tells the shocking true story of Ted Bundy (Corin Nemec) who murdered numerous young women between 1974 and 1978. A graduate in psychology, who was also involved in politics and law, he used his charm, good looks and intelligence to coerce women into his VW Bug before bludgeoning them to death. He escaped from prison twice before his final apprehension in February 1978. After more than a decade of vigorous denials, he eventually confessed to 30 murders, although the actual total of victims remains unknown. Estimates range from 29 to over 100, the general estimate being 35. Ted Bundy proved to be one of the most dangerous and notorious serial killers in the history of America before being convicted and sent to the electric chair in 1989.
CAST & CREW
Michael Feifer  (B.T.K, Boston Stranger)  - Director 
Corin Nemec
(
Stargate SG-1
)
                                                  Ted Bundy
Jen Nikolaisen (
Boston Strangler
)                                           Stephanie
David DeLuise (
3rd Rock From the Sun
)                                           Detective Jennings
Kane Hodder (
B.T.K., Friday the 13th VII-Jason X
)                           Warden                                                            
DVD TECHNICAL INFORMATION
Release Date:
                                                14th September 2009
Distributor
:                                    Lions Gate Home Entertainment
Copyright:                                      
© Lions Gate Home Entertainment UK Ltd. All Rights Reserved.
Aspect
Ratio:
                                Anamorphic 1.78:1
Audio:                                                
Dolby Digital 5.1 Surround
Languages:
                                      English
Cert
:                                                     18
RRP
:                                                     £12.99