Another horror flick Smash Cut is out in August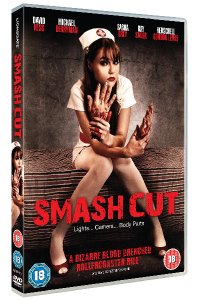 SMASH CUT
'
LIGHTS.
CAMERA. BODY PARTS'
SMASH CUT
IS AVAILABLE TO OWN ON DVD FROM
31st August 2009
SYNOPSIS
SMASH CUT is the dizzying and unique homage to the classic horror films of Herschell Gordon Lewis. SMASH CUT is the story of ABLE WHITMAN, a troubled filmmaker losing his mind in an extraordinary way.
 After his latest "serious" film is met with gales of laughter, Able decides to drown his sorrows at a local strip club--where he meets dancer GIGI SPOT. Minutes later, he's convinced her to star in his next project. Minutes after that, he's killed her in a drink driving accident. Needing to dispose of the body, Able stumbles upon the one place nobody would notice a corpse…spread around the set of his new horror film.  When the response to this new footage is praised for its realism, the guilt ridden Able has a complete mental breakdown. Believing he has finally discovered the key to making a great horror film, the director quickly discovers that one human body doesn't yield a lot of parts, and if he wants to finish, he's going to have to keep on killing.
CAST & CREW           
Lee Demarbre- Director 
David Hess (Original
The Last House on the Left
)
                                        Able Whitman
Michael Berryman (Original
The Hills Have Eyes
)                                        Philip Farmsworth Jr.
Sasha Grey (
Steven Soderbergh's upcoming 'The Girlfriend Experience'
)            April Carson                                                            
DVD TECHNICAL INFORMATION
Release Date:
                                   31st August 2009
Distributor
:                                        Lions Gate Home Entertainment
Copyright:                                          
© Lions Gate Home Entertainment UK Ltd. All Rights Reserved.
Aspect
Ratio:    
                                Anamorphic 1.78:1
Audio:                                                 
Dolby Digital 5.1 Surround
Languages:
                                         English
Cert
:                                                      18 (tbc)
DLP
:                                                       £12.99