Horror flick Grace arrives in US homes this September
"A satirical creepfest that mines modern motherhood
for all its latent terrors..."
-- Variety
ANCHOR
BAY
ENTERTAINMENT PRESENTS
PAUL SOLET'S

GRACE
ON
DVD
AND
BLU-
RAY
™
A Genre Sensation Arrives September 15th Swaddled With Bonus Features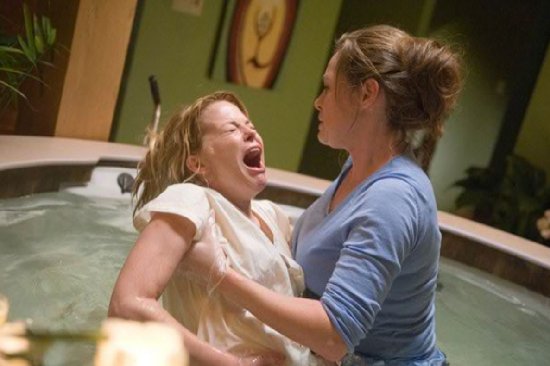 BEVERLY HILLS, CA - An absolute sensation at the 2009 Sundance Film Festival - where two people fainted during the film's premiere - and a runaway hit on the international film festival circuit, Paul Solet's
Grace
will bow September 15, 2009 on DVD and Blu-ray™.
Grace
is an unforgettable emotional and psychological journey into terror, as a young woman (Jordan Ladd,
Cabin Fever, Quentin Tarantino's Death Proof
) is forced to make the ultimate maternal sacrifice when the stillborn child she carried to term returns to life with a horrifying appetite. Pre-book is August 13, and SRP is $26.97 for the DVD, and $34.97 for the Blu-ray™.
Grace
is produced by Ingo Volkhammer, Cory Neal, Adam Green and Kevin DeWalt. Neal and Green are the writing/directing/producing team behind the contemporary cult classics
Hatchet
and
Spiral.
After years of trying to conceive, Madeline (Ladd) and Michael Matheson (Stephen Park,
Scary Movie 3, The Pink Panther
) are finally about to become parents. But with only weeks to go before delivery, an accident leaves both Michael and the unborn child dead.  Devastated, Madeline decides to carry the child to term and deliver naturally.  What seemed like madness becomes a miracle when, after delivering a dead child, Madeline finds her baby is indeed alive…and hungry. She soon discovers that her baby - now named Grace - thirsts for something more than mother's milk, and Madeline is determined to feed her child, no matter the consequences. With nowhere to turn, Madeline must make a mother's ultimate decision: What will she sacrifice to keep her child alive?  
Grace
has wowed - and terrified - audiences all over the world. In addition to Sundance, the film was an official selection at the South by Southwest Festival, the AFI Dallas Film Festival, the Independent Film Festival of Boston, the San Francisco International Film Festival, the Seattle International Film Festival, as well as the upcoming Sitges International Film Festival of Catalonia, Spain, Puchon International Fantastic Film Festival and Montreal's Fantasia Film Festival. Other festival screenings include Portugal's Fantasporto Festival, Athens Science Fiction and Fantasy Festival and Scotland's Film Four Frightfest. In February,
Grace
was awarded the Prix Du Jury Award at the Gerardmer Festival Du Fantastique 2009 in France.
Hailed as "downright chilling" by Variety, and "… a blood-soaked piece of social commentary" by MSN,
Grace
has emerged among critics as nothing short of a genre phenomenon.  Cinematical wrote: "First-time writer-director Paul Solet…proves himself adept both as a visual storyteller, and as a guy who can make you crap your pants,"
while EOnline bluntly stated: "Let this be a warning: View at your own risk."
Grace
on DVD and Blu-ray cradles a bundle of bonus features charting the film's conception, execution and delivery:
Audio commentary with writer/director Paul Solet, producer Adam Green and director of photography Zoran Popovic
Audio commentary with writer/director Paul Solet and actor Jordan Ladd (Blu-ray™ exclusive)

Grace

: Conception - charting the film's origins;

Grace

: Family - an in-depth look at the cast of characters;
Her Mother's Eyes: The Look of

Grace

- designing the unique visuals

Grace

: Delivered - overcoming challenges during principal photography
Lullaby: Scoring

Grace

- creating the score and sound effects

Grace

at Sundance - becoming a festival sensation
Theatrical Trailer
Grace
was written and directed by Paul Solet, and produced by Ingo Vollkammer, Cory Neal, Adam Green and Kevin DeWalt. Scott Einbinder and Simon Edery are Executive Producers. Zoran Popovic was Director of Photography and Martina Buckley was Production Designer. The film is an Indigomotion release of an ArieScope Pictures Production in association with Dark Eye Entertainment, and will be distributed by Anchor Bay Entertainment.
Anchor Bay Entertainment is the home entertainment division of Starz Media, LLC. It includes the Anchor Bay Films and Manga Entertainment brands. It distributes feature films, children's entertainment, fitness, TV series, documentaries, anime and other filmed entertainment on DVD and Blu-ray formats.  It is the exclusive distributor in the U.S. of the theatrical titles from Overture Films. Headquartered in Beverly Hills, CA, Anchor Bay Entertainment has offices in Troy, MI, as well as Canada, the United Kingdom and Australia.  Starz Media (
www.starzmedia.com
) is a controlled subsidiary of Liberty Media Corporation attributed to the Liberty Capital Group.
Los Angeles and Berlin-based LEOMAX ENTERTAINMENT is a privately held, equity-backed transatlantic motion picture company, founded by senior partners Ingo Vollkammer and Scott Einbinder to develop, finance, produce, and acquire high-concept genre motion pictures for theatrical and direct-to-video distribution. Leomax concentrates on producing branded, and potentially brand-able commercial motion pictures for American and worldwide audiences through its Indigomotion label. Overture Films reserves first-look rights to all Leomax motion pictures produced in conjunction with Starz for theatrical distribution. For its part, Leomax, by means of its multi-million dollar production and P&A facility, also has the ability to market and release its own productions and acquisitions in partnership with other studios and independent distribution companies.
GRACE
DVD
Street Date:                   September 15, 2009
Pre-book Date:             August 13, 2009
Catalog #:                     DV16054
ISBN #:                         0 1313 16054-9 5
Rating:                          R for bloody images, violence and some sexual content
Running Time:               84 minutes
SRP:                            $26.97
Format:                         Anamorphic Widescreen (2.35:1)
Audio:                          Dolby Digital 5.1
Subtitles:                      English SDH 
GRACE Blu-ray
Street Date:                   September 15, 2009
Pre-book Date:             August 13, 2009
Catalog #:                     N3133
ISBN #:                         0 1313 83133-8 6
Rating:                          R for bloody images, violence and some sexual content
Running Time:               84 minutes
SRP:                            $34.97
Format:                         Anamorphic Widescreen (2.35:1) MPEG-4 AVC 1080p
Audio:                          Dolby TrueHD 5.1
Subtitles:                      English SDH