Step Brothers coming in February on DVD and Blu-ray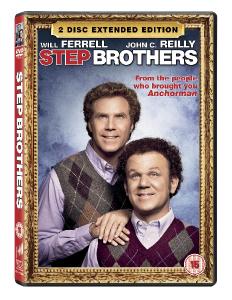 Step Brothers
Available to buy on Blu-ray and DVD / rent on DVD
2nd February 2009
This family ain't big enough for the both of them…
Funnymen WILL FERRELL (
Blades of Glory, Anchorman: The Legend of Ron Burgundy, The Producers
) and JOHN C. REILLY (
Walk Hard: The Dewey Cox Story, Boogie Nights
), who last teamed up in the box-office smash
Talladega Nights: The Ballad of Ricky Bobby
, go head to head in the hilarious slapstick comedy
Step Brothers
, out to buy on DVD, Blu-ray and UMD Video on 2nd February 2009, courtesy of Sony Pictures Home Entertainment.
Produced by JUDD APATOW (
40 Year Old Virgin, Knocked Up, Pineapple Express
) and directed and co-written by regular Ferrell collaborator ADAM McKAY (
Anchorman: The Legend of Ron Burgundy,
TV's
Saturday Night Live
),
Step Brothers
stars FERRELL and REILLY as two spoiled guys who become competitive step brothers when their single parents get hitched.
FERRELL plays Brennan Huff, a sporadically employed thirty-nine-year-old who lives with his mother, Nancy (MARY STEENBURGEN,
Elf, Nixon
). REILLY plays Dale Doback, a terminally unemployed forty-year-old who lives with his father, Robert (RICHARD JENKINS,
Burn After Reading, The Visitor,
TV's
Six Feet Under
). When Robert and Nancy marry and move in together, Brennan and Dale are forced to live with each other as step brothers. As their narcissism and downright aggressive laziness threaten to tear the family apart, these two middle-aged, immature, overgrown boys will orchestrate an insane, elaborate plan to bring their parents back together. To pull it off, they must form an unlikely bond that maybe, just maybe, will finally get them out of the house.
The DVD is available as a single disc release containing the original theatrical version and 50 minutes of side-splitting extras and as a two-disc DVD and Blu-ray, which include the original theatrical version and a brand new extended cut, plus a bonus digital copy. The two-disc release is also packed with an incredible 3 hours of special features, including 6 deleted scenes, 2 commentaries, 3 featurettes, music video and behind the scenes rehearsal footage. The Blu-ray also boasts the hysterical "Boats and Hoes" music editor game.