Alfresco on DVD this February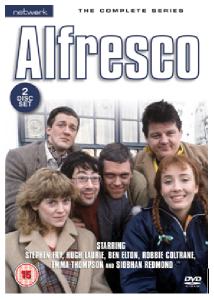 ALFRESCO THE COMPLETE SERIES (15)
Network is delighted to announce the release of ALFRESCO (15), the Granada comedy sketch show broadcast in 1983 that gave a break to six promising young comedians: Stephen Fry, Hugh Laurie, Emma Thompson, Paul Shearer (later replaced by Robbie Coltrane) and Siobhan Redmond. It will be available to buy on DVD for the first time complete and uncut in a two-disc set on 2nd February 2009, RRP £19.99.
Written by Ben Elton, the show's producer Sandy Ross found his participants at the Edinburgh Fringe. This comedy was created as an attempt to create a rival to
Monty Python's Flying Circus
and, more recently,
Not the Nine O'Clock News
. The resulting mini-series, screened only in the North-West in 1982 as "There's Nothing to Worry About!" was reborn a year later as ALFRESCO (15) running across all ITV regions. Running for two series, ALFRESCO was notable not only for its contributors, but the originality of its format; the use of hand-held recording equipment (previously only used in news bulletins) ensured an innovative, fresh feel for its many outdoor scenes.
***
Ends***
NOTES TO EDITORS
ALFRESCO (15) is a Network Distributing Release
Release Date: 2nd February 2009
RRP: £19.99
Total Running Time: 400 minutes (approx.)
Screen Ratio: 1.33:1 Colour